Crunchy Tasty Brussels Sprouts
Are you tired of the same over cooked veggies on turkey day? 
Make your veggie side dish a show stopper with these crunchy, sweet and earthy roasted sprouts.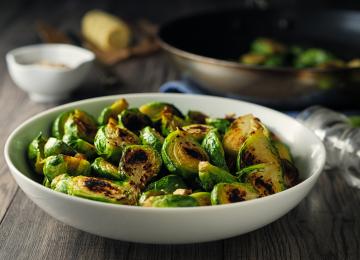 Ingredients
1 lb Brussel sprouts
Olive oil
Salt & Pepper to taste
1 tbsp honey

2

Cut the ends off of the Brussel Sprouts.
Cutting off about a quarter of an inch will create the loose leaves that will be able to get crispy
3

Drizzle generously with olive oil and honey, sprinkle with salt and pepper. 
Loosen the sprout bulbs with your fingers opening up their layers which will help them get crunchy.
Make sure the spouts are evenly distributed on the pan, overlapping will keep the sprouts from crisping up.
4

Roast for 20 min checking your sprouts and turning after 10 min.