Cranberry Black Pepper Chutney
The best part of this sweet side? It's done in less than 30 minutes.
Meal Type
Side Dishes
Snacks & Dips
Diet Type
Gluten-Free
Vegan
Vegetarian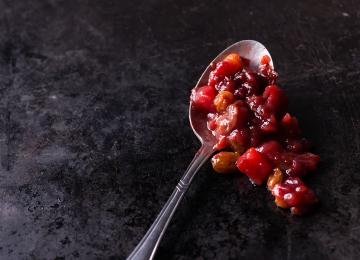 Ingredients
⅓ shallots finely chopped
1 tablespoon oil
2 cups fresh cranberries
½ cup sugar
⅓ cup water
1 tablespoon cider vinegar
¾ teaspoon cracked black pepper
¼ teaspoon sea salt
1
Cook the shallots in butter in a heavy saucepan over medium heat stirring occasionally until golden 3 to 5 minutes.
2
Stir in the remaining ingredients and simmer uncovered stirring occasionally until the berries have burst and the chutney is thickened about 20 minutes.
3
Cool to room temperature.