Cornmeal Crepes with Fresh Peaches
Want to add a little more body to your crepe batter and achieve a beautiful color as well? Try using this easy recipe with cornmeal. It can also be a savory crepe with zucchini, goat cheese and basil.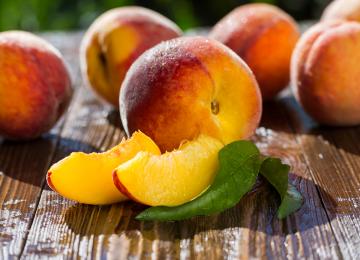 Ingredients
1 ¾ cups milk
¼ polenta coarse cornmeal
½ teaspoon vanilla
4 tablespoons unsalted butter
²/₃ cup spelt whole grain flour
¼ teaspoon sea salt
1 teaspoon cane sugar
2 large eggs
Peaches, sliced
Crème Fraiche or sour cream


1
Warm the milk in a saucepan with the polenta, vanilla and butter until the butter melts. Set aside and cool.
2
Mix the flour, salt, and sugar. Stir in the eggs, then slowly add the cooled milk. Beat until smooth.
3
Set aside in the fridge for at least an hour. Let the batter come to room temperature before making the crepes
4
Heat an 8-inch nonstick skillet with a little butter. Add 3 tablespoons of the batter and swirl it around the pan to make a thin even layer. Cook over medium-high heat until golden, about 1 minute.
5
Flip the crepe over and cook the second side for about 1 minute. Slide it onto a plate.
6
Spread peach slices on half of the crepe. Add a dollop of Crème Fraiche or sour cream and fold the second half over.
7
Consider drizzling with blackberry syrup before serving.