Citrus and Arugula Salad with Balsamic Dressing
Get ready for a winter reboot, this sweet, tangy, and refreshing salad is everything you need to jump-start your wellness this year. Add grilled chicken or shrimp and make it a dinner salad.   
Recipe from our friend: 
Meal Type
Entrees
Salads & Soups
Side Dishes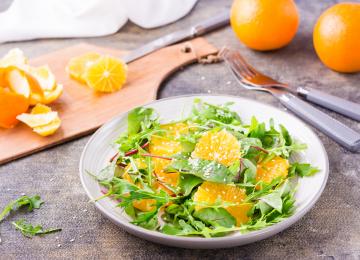 Ingredients
Dressing
3 tablespoons extra virgin olive oil
2 tablespoons balsamic vinegar
1 clove garlic, pressed
1 pinch dried oregano
1/2 teaspoon salt

Salad
1 large red grapefruit
1 large Cara Cara or navel orange
2 large blood oranges
1 small shallot, thinly sliced
4 oz. arugula
1/2 cup chopped walnuts or 4 oz. crumbled feta, optional
1
First, make the dressing. In a jar or small bowl, combine the olive oil, balsamic vinegar, garlic, oregano and salt and shake or whisk to mix. Reserve.
2
Using a sharp knife, cut off both ends of the grapefruit and each orange to expose the flesh and make a flat surface. Place on the flat, cut side and use your knife to pare away the peel and pith, leaving just the flesh of the citrus exposed. Place each trimmed fruit on its side and slice thinly. Remove any seeds and reserve.
3
Spread the arugula on a large platter or place in individual bowls. Arrange the citrus rounds on top of the arugula, with the blood oranges on top. Sprinkle with shallots and drizzle with dressing. Add walnuts or feta, if desired. Serve immediately.