Chipotle Cherry Barbecue Sauce
Why make your own barbecue sauce? This sweet, smoky, cherry chipotle barbecue sauce is one mouthwatering reason.
Diet Type
Gluten-Free
Vegan
Vegetarian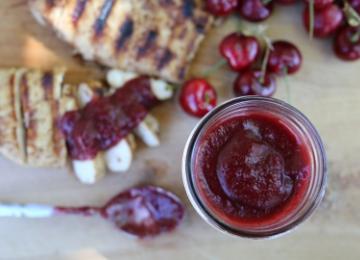 Ingredients
2 cups cherries, washed and pitted
2 cloves garlic
1/4 cup apple cider vinegar
2 tablespoons stone-ground mustard
1 1/2 teaspoon smoked sea salt
2/3 cups canned diced tomatoes with chilies
1/4 cup canned chipotle sauce
1/3 cup turbinado sugar
1
Preparation
Place all ingredients in a blender or food processor.
Blend until well combined and transfer to a saucepan.
Cook, stirring occasionally, on medium heat for about 60 minutes until sauce is reduced by half, or reaches desired thickness.
2
Serving Suggestion
Take advantage of in-season fresh cherries and make a double batch of this slightly sweet, slightly spicy sauce. Serve with barbecued chicken, pork or burgers, or drizzle over smoky marinated tofu steaks.
3
Nutritional Information
40 calories, 1 g. fat, 0 mg. cholesterol, 380 mg. sodium, 9 g. carbohydrate, 0 g. fiber, 0 g. protein