Prep Time
15 min prep, 15 min cooking
This classic Chinese dish cooks up quickly and always hits the spot. This version was created by Ashland Food Co-op deli chef, Stanley Butler.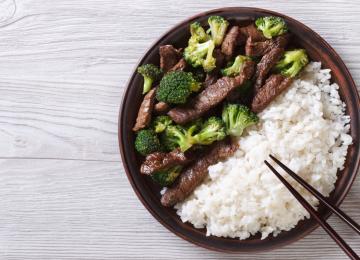 Ingredients
1.5 lbs tri-tip or flank steak, sliced thin
1 lb broccoli, cut into florets
2 tablespoons peanut oil
2 teaspoons ginger, minced
1 tablespoon garlic, minced
¼ cup black bean garlic sauce
2 tablespoons soy sauce
2 tablespoons sherry
½ cup beef stock
1 tablespoon cornstarch

1
Cook broccoli in a pot of boiling salt water for 30 seconds or until bright green. Remove from pot and place immediately into ice water. This is called shocking and keeps green veggies green.
2
In a bowl, stir together black bean garlic sauce, soy, sherry, garlic and ginger.
3
Heat wok or skillet and add oil. Cook beef until browned, then add broccoli and sauce.
4
As the sauce begins to bubble, mix cornstarch with 2 tablespoons of cold water (make a slurry) and add to the dish. As it heats back up, the sauce will thicken.
5
Add beef stock slowly until desired thickness is achieved.