Chicken Sausage Stacked Enchiladas
The New Mexicans got it right! Stack your enchiladas, it will cut your prep time in half. Try this recipe with Mild Italian, Chorizo or Smokey Mesquite Smart Chicken Sausage.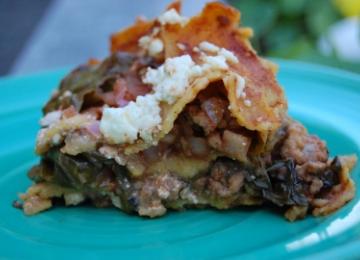 Ingredients
½ cup red onion, chopped fine
Red wine vinegar to cover the onion
1 pound chicken sausage
12 corn tortillas

1 bunch spinach washed and torn
1 cup feta cheese, crumbled
Olive oil as needed
1 16oz. jar Sweet Creek Enchilada Sauce
3 green onions, chopped
1
Preheat the oven to 425 degrees.
2
Pour the vinegar over the onions and let sit for at least 30 minutes. Drain and set aside. Keep the vinegar to make salad dressing.
3
Heat a medium skillet and add the sausage, mashing it up a bit. Continue to cook until it is well browned. Set aside.
4
Lightly oil a 9x9 inch baking pan. Add two or three tortillas to cover the bottom.
5
Sprinkle some red onion, sausage, spinach and cheese on top of the tortillas.
6
Pour 1/2 cup of the sauce over all. Repeat the layering so you make 3 or 4 layers. End with tortillas, cheese and sauce on top. Add a little water to the sauce container if needed to extend the sauce.
7
Cover with foil and bake for 30 minutes.
8
Cover with foil and bake for 30 minutes.
9
Reduce heat to 350. Cook for another 10 minutes.
10
Remove the tin foil. Cook an additional 10 minutes.
11
Serve sprinkled with a little of the cheese and some green onion.