Black Bean and Avocado Soup
We call this our vegan home run soup. Rich deep flavors, a little spicy, and easy to make.
Diet Type
Gluten-Free
Vegan
Vegetarian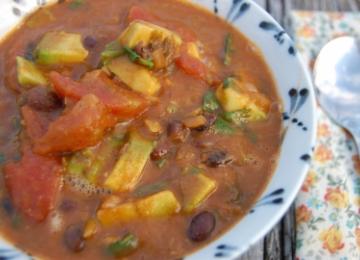 Ingredients
2 tablespoons olive oil
1 red onion diced fine
6 cloves garlic minced
1 heaping tablespoon cumin seed
1 teaspoons chipotle chile powder
2 cinnamon sticks
2 teaspoons sea salt
2 tablespoons cane sugar
1 small bunch cilantro coarsely chopped
1 can whole tomatoes seeds removed and coarsely chopped
3-4 cups black beans cooked
4 cups vegetable stock
1-2 avocadoes cubed
Juice from one lime
1
Heat the oil in a heavy bottomed pot. Add the onion and sauté until soft.
2
Add the garlic, cumin, chipotle powder, cinnamon, salt, sugar, and half of the cilantro. Sauté an additional 2 to 3 minutes.
3
Add the tomatoes and then the beans. Sauté a few minutes longer. Add stock and bring to a boil. Simmer gently for 10-15 minutes.
4
Blend a cup or two of the beans and liquid and return to the pot. Check the salt level, adding more if needed.
5
Add the avocado and remaining cilantro plus the lime juice.