Beer Brat with Kraut & Herbed Mashed Potatoes
Cool fall nights call for warm hearty comfort food. These beer brats and herbed mashed potatoes will be sure to satisfy you to the core. Top with local Pickled Planet great plains sauerkraut and pair with a crisp cold brew or chilled apple cider for the perfect autumn supper.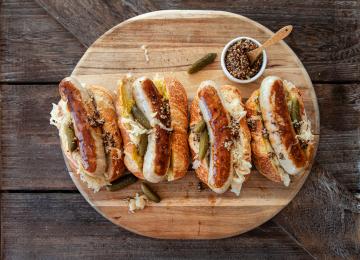 Ingredients
BRATS:
4-6 Ashland Food Co-op pork bratwurst (you can use other bratwurst like chicken, but please note change in cooking temperature)
1 yellow onion sliced into ribbons
1 tbsp whole peppercorns
24 oz. beer (we recommend Organic Eel River Blond Ale, but you can use any beer! However, an IPA might make them bitter.
---serve with if you like:
---Brioche hot dog buns
---Pickled Planet Great Plains Sauerkraut,
---dijon mustard

HERBED MASHED POTATOES
8 medium potatoes
1 stick butter (softened/room temperature)
Ricotta cheese
Salt and pepper to taste
1 tbsp chives
1 tsp garlic powder
1
BRATS:
Add onions, sausages, peppercorns to a bowl and add beer. For the most flavorful results let soak for 12 hours or overnight. When marinated, transfer to a dutch oven. Bring the brats to a boil and simmer for 10-12 minutes or until core temperature reaches 145 degrees. If using chicken sausage, cook to 165.
For a little extra flavor, grill for 1-2 min.
Serve on toasted brioche hot dog buns with Pickled Planet Great Plains Sauerkraut, dijon mustard, and the beer-soaked onions from the beer bath. 
2
HERBED MASHED POTATOES:
Boil the potatoes until they are soft. Add to a stand mixer or mash by hand. Add butter, ricotta, salt, pepper, chives, and garlic powder. Mix all ingredients until evenly distributed. If you want more of something add it! This recipe is all your taste!
When mixed and tasty, transfer to an oven safe container and warm up for 15 min at about 350 degrees. 
Feel your soul warm and enjoy!