Beer Braised Beef Stew: Featuring Emerald Hills
This warming stew is perfect for chilly days and evenings and features one of our favorite locals: The Ashland Food Co-op has been proudly partnering with Emerald Hills for over 20 years! Their pasture-raised and pasture-finished beef is an esteemed staple that is available from the Co-op Meat Department. 
Click here to watch this amazing film by Katie Falkenberg that tells the story of our friends and this fourth generation ranching family. 
Meal Type
Entrees
Salads & Soups
Side Dishes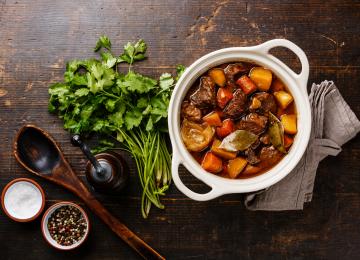 Ingredients
2 1/2 lbs. beef chuck roast, cubed
1/2 teaspoon kosher salt
1/2 teaspoon black pepper
2 tablespoons olive oil
4 cloves garlic, whole
1 medium sweet onion, chopped
1/4 cup tomato paste (optional)
1 12-oz. Caldera Lawnmower Lager
2 cups beef stock
1 lb. russet potatoes, peeled and cubed
2 stalks celery, chopped
18-20 baby carrots
3 sprigs of fresh thyme
1 sprig of fresh rosemary
1 tablespoon balsamic vinegar
Fresh parsley, garnish
Crusty bread, for serving
2
In a large Dutch oven start to brown the beef cubes with 1 tablespoon of olive oil. Add salt and pepper.
3
Add your onions and garlic. When the onions become clear in appearance, add the 12 oz of beer and beef stock to the beef.
4
The beer and beef stock will begin braising the beef. Place the lid on the Dutch oven and place in your oven at 325 for 90 minutes.
5
After 90 minutes, add your veggies to the Dutch oven. Place the stew back in the oven for 30 to 45 minutes.
6
Top with garnish and enjoy with a fresh crusty baguette from one of our Local Artisan Bakeries!