Enjoy this delicious, veggie filled and low carb Beef Tostada Salad when you are craving a Mexican-themed meal!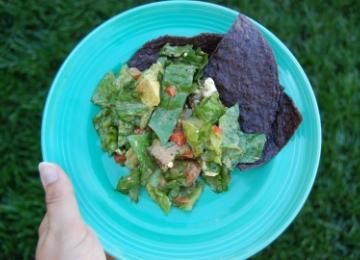 Ingredients
Dressing
2 tablespoons cider vinegar
1 teaspoon mustard
1 teaspoon paprika
1 tablespoon cane sugar or agave nectar
1 teaspoon sea salt
3 tablespoons extra virgin olive oil

Salad
1 head romaine lettuce cut into ½ inch strips
2 green onions chopped into rounds
2 tomatoes diced (if in season)
1 avocado diced
½ cup cilantro chopped
2 mild green chilies chopped (canned are o.k.)
1 small red bell pepper diced
¼ cup feta or Romano cheese
1 pound cooked beef cut into ½ x ¼ x 2 inch strips (use any cut of steak)
2 cups of your favorite corn chips
1
Combine all the dressing ingredients and whisk well.
2
Toss all the remaining ingredients in a large bowl add the meat and then the dressing. Toss again.
3
Serve at room temperature as a main course.