Prep Time
1 hour 15 minutes; 15 minutes active
Serve this popular dip with pita bread, olives and veggies or alongside dishes like tabouli, fattoush and falafel.
Recipe by Welcome to the Table
Meal Type
Side Dishes
Snacks & Dips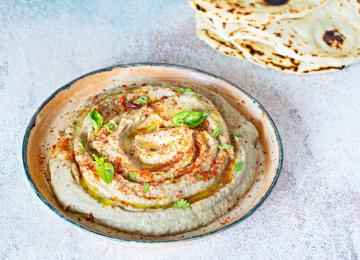 Ingredients
1 large eggplant (about 1 1/2 pounds)
1 garlic clove, peeled and minced
3 tablespoons tahini
3 tablespoons lemon juice
1 tablespoon olive oil
1/2 teaspoon ground cumin
1/2 teaspoon salt
Pinch of cayenne (optional)
1-2 tablespoons fresh parsley, minced
2
Prick the eggplant in several places with a knife or fork. Place on a baking sheet and roast the eggplant in the oven for 45 minutes to an hour, turning it occasionally. Remove from oven when the eggplant soft and collapsing and the outside is blackened. Place the eggplant in a bowl and set aside until it is cool enough to handle.
3
While the eggplant is cooling, mix all of the remaining ingredients in a large bowl.
4
When eggplant is cool, remove and discard the blackened skin and any excess liquid that has accumulated in the bowl. Mash the flesh with a fork (or finely dice with a knife, add to the remaining ingredients and blend well). Serve with warm pita bread.