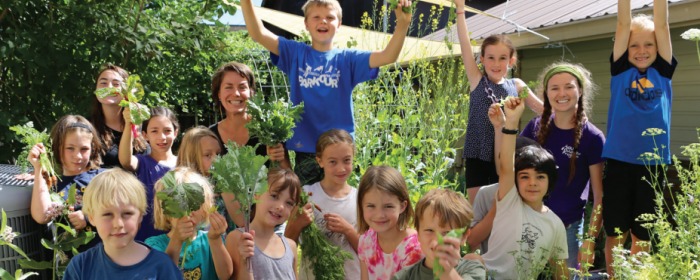 Kid's Farm to Fork Challenge
to
Ages 6-9
In this camp, kids will start the day digging their hands into the dirt to gather ingredients, and they'll end the day sharing food that came out of the ground just a few hours before! Campers will become full chefs for the day to create unique, delicious dishes with farm-fresh ingredients. And they'll learn techniques to make dressings, sauces and toppings using what is harvested, so these new chefs can continue adding their own flavor to future family dinners.
Camp will take place Monday-Thursday 9:00-1:00. Monday will be held at the Co-op classroom, Tuesday through Thursday will be at the Farm at SOU. Campers will make their own lunch, but please pack a healthy snack.
Refund Policy
Please note that we cannot issue refunds for missed classes or cancellations that are made within 48 hours of the class.

Instructor:
Rebecca Slosberg, Program Manager, Rogue Valley Farm to School
Rebecca loves any excuse to be outside and feels lucky to have a career sharing this love and enthusiasm of our local environment. Rebecca has worked as an interpretive park ranger and environmental educator all over the country from Alaska to Florida. She spent several years as an educator at an outdoor science school in California and moved to the Rogue Valley to get her Masters degree in environmental education at Southern Oregon University. Rebecca enjoys being out in the Rogue Valley, whether it's hiking, skiing, backpacking, chasing after her children or helping kids get their hands dirty.
More Cooking Classes