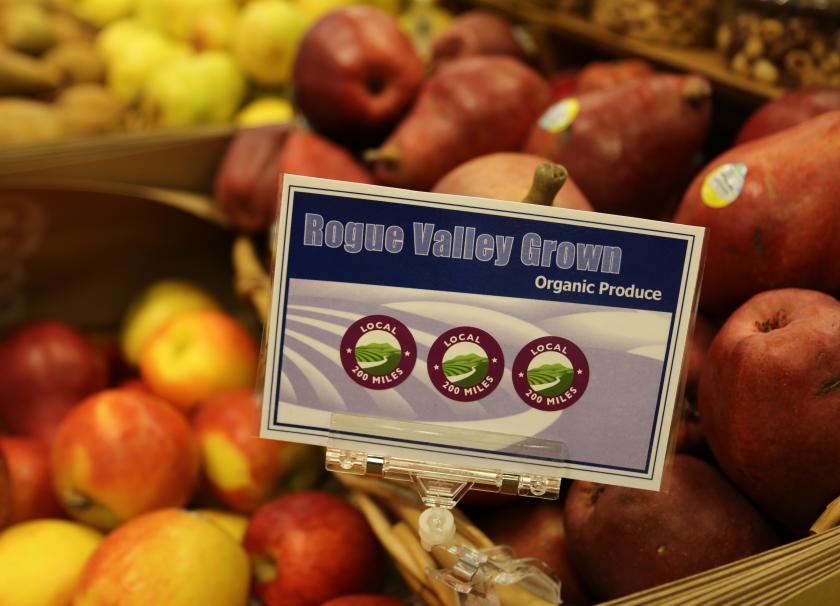 September 8th, 2016
We Love Local
We take pride in supporting local farmers, producers, vendors and vintners. When we say local, we mean local. At some grocery stores, the word local gets thrown around like the word "natural," ambiguously and with a broad definition.
But local means something to us. A definition we take meticulous pride in.
Local adjective
Any food or product grown, produced or made within 200 miles.
Let's use it in a sentence. The Ashland Food Co-op supports an average of 250 local companies.
We carry local fruits, veggies, meat, beer, wine, vitamins and more. In fact, 25% of our total sales come from selling local products. With all the abundance the Rogue Valley has to offer, it's easy to love local, especially this time of year.
Join us during Thrive's Eat Local Celebration to feast on farm-fresh produce, handcrafted products and world class beer and wine. From September 9th - 25th, we'll feature local-centric deli specials, in-store promotions and meet the maker demos. For a full Tasting Kiosk schedule, visit our calendar of events.
Beyond the Co-op, there are many opportunities to local love during Thrive's Eat Local Celebration. Get out and explore!
Salsa Festival and Showdown at the Medford Food Co-op
Join Thrive, the Medford Food Co-op, Caminos and La Clinica at a Salsa Festival & Showdown, a day celebrating Latino culture, healthy living, and local foods. Entertainment, food trucks, recipe demonstrations, kids activities, salsa sampling & a salsa-making competition all round out the fun. Free!
Harvest Dinner on Oak Street
Join Standing Stone Brewery Co. for a special evening dining under the stars. This community event benefiting Rogue Valley Farm to School features some of the best chefs in the Rogue Valley collaborating to create a meal celebrating the local farms and the bounty of our region. Local craft beer, wine, and cider will be poured along with live music from The Brothers Reed.
Don't forget to get your Explore the Rogue Valley Passport stamped if you eat at the Deli or attend one of our in store tastings. You can pick up a passport at the Co-op or any other Eat Local week participating business. Attend a minimum of three Eat Local Celebration events and be entered to win $100 gift certificate to the CSA or growers market of your choice. For more information and a complete list of Thrive's Eat Local Celebration events visit buylocalbuyrogue.com.
More Co-op News