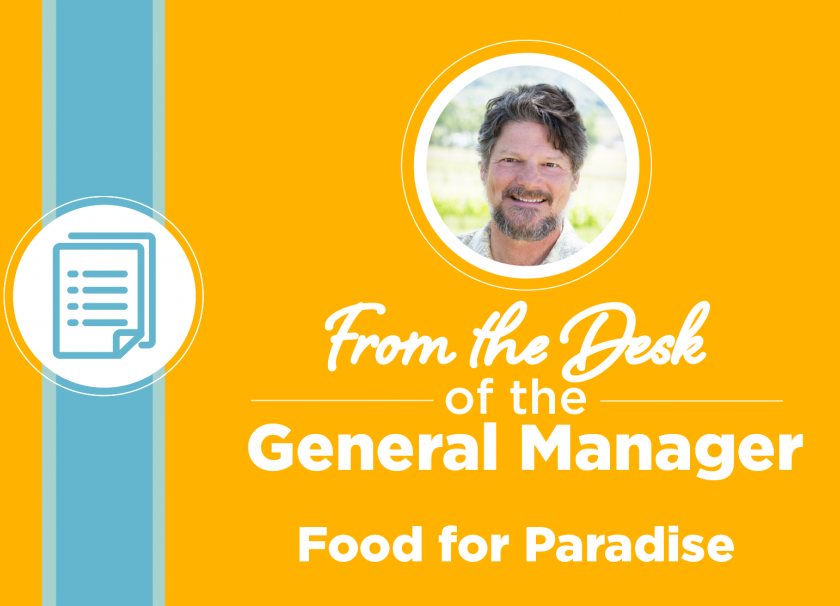 December 31st, 2018
Update from the General Manager: "Food for Paradise" campaign
Ashland Food Co-op's General Manager, Emile Amarotico, ends 2018 on a very uplifting note with a report back on the "Food for Paradise" donation campaign. Watch the video below, or read on for an extended written update.
Hello, this is Emile Amarotico, the general manager of Ashland Food Co-op with an update on the Co-op's Food for Paradise initiative.

A few weeks ago, we launched a fundraising campaign for residents of Paradise, CA displaced by the Camp Fire in November. We wanted to do what we do best: provide nourishing, organic food to families in the region. 

When we realized the size of the task ahead of these displaced families, we thought about two specific Co-op principles: Concern for Community, and Cooperation among Co-ops. In Ashland, we know the threat of fires and how impactful they can be even when they're miles away. So when a town the same size as Ashland is leveled by fires, our concern hits close to home: that could have been our house, our neighborhood or our co-op. We had to help.

We also know that because the Paradise area relies on many of the same local farmers and vendors that we do, keeping families fed through this difficult time was an important priority. Working together with our friends at the Chico Natural Foods Co-op, we could make sure good food went directly into the hands of families who need it the most.

Our original plan was to donate $3,000 to the Chico Co-op up front, and to then ask our community to contribute another $3,000 that the Co-op would match.

Well, it didn't quite work out that way - far from it. Instead of the $9,000 we hoped to raise, I believe that we have completely surpassed this goal. At this time I'd like to share with you the total for donations received to date: over $13,000 has been donated from the community and the Co-op.

I am absolutely floored by this outpouring of support from our community. The generosity shown by Ashland, in spite of our own struggles with the fire season, shows that the caring spirit embodied in our town can be felt hundreds of miles away.

I can't think of a better way for our community to demonstrate what the holidays are about. This effort will have an everlasting influence in our community: first by personifying and passing on the value of empathy, a priceless gift in and of itself; and second, by giving the recovering families of Paradise the peace of mind of not worrying how they'll put food on the table while they recover.

Those are gifts that will never be forgotten. 

Thank you personally and on behalf of the rest of the Ashland Food Co-op community. We look forward to the new year with such a strong co-op family around us. 
 
More Co-op News