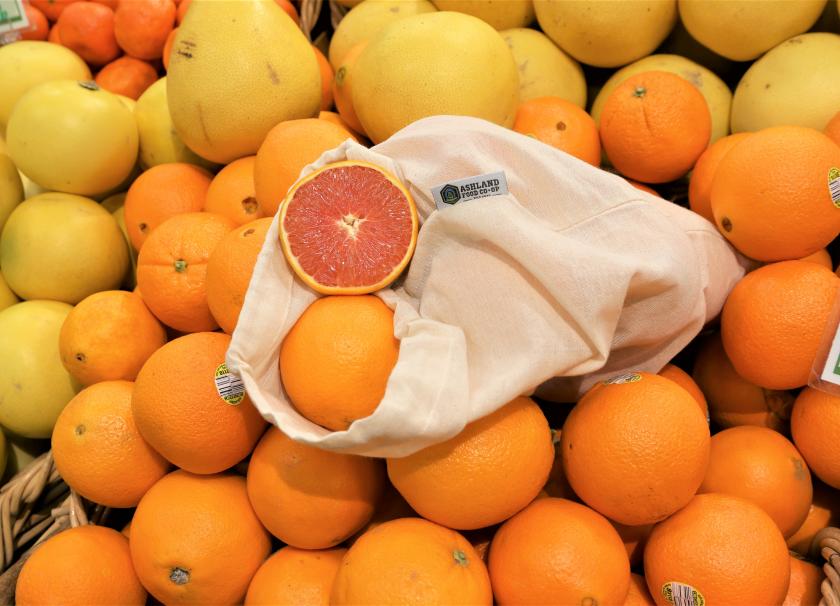 July 1st, 2019
Sustainability Update: Energy efficiency and zero waste
Energy Efficiency
We are happy to announce that we are a member of the Energy Trust of Oregon's Strategic Energy Management program. This is a free program available to customers of Avista and Pacific Power, which offers awesome incentives including a paid internship!

The Co-op has partnered with other organizations including Standing Stone Brewery, the City of Talent, Rogue Community College, Oregon Shakespeare Festival, and many more to reduce our commercial natural gas usage and focus on energy conservation. Together, we are the Southern Oregon Cohort! 

We are welcoming Nina Friedman as our new Strategic Energy Management Intern, and are working on an Energy Policy and Action Plan.

Zero Waste
Last fall, we introduced two reusable bag options for customers. We also removed four plastic bag stands from the Produce department. We have two great options: a white bag made from recycled plastics, or a cotton bag. Each bag costs only 25 cents!

Our cotton bags come from an amazing company in India called Royal Jute. One hundred percent of the profits from Royal Jute go directly to Kiva, a non-profit that funds small business loans to women all over the world. With each cotton bag that you purchase, you are making a real impact on the lives of women worldwide. Not to mention, reducing plastic!

This month, we are focusing on a take-back program with the Seattle Tacoma Box company. A lot of our produce comes in big plastic boxes that say they are "100% recyclable". Unfortunately they are not recyclable in our region, and usually end up in the landfill. Luckily, there is a way to return and recycle these boxes by transport up to Salem. Through take-back programs like this, we can take bigger steps toward our Zero-Waste goal. 
We are also beginning a store-wide waste audit - starting with the Deli! With the help of Recology, we will look deep into the realms of our trash bags… and see how we can get better at diverting recycling and reducing our waste.

If you would like to hear more about our sustainability initiatives, contact Rianna at [email protected].
More Co-op News