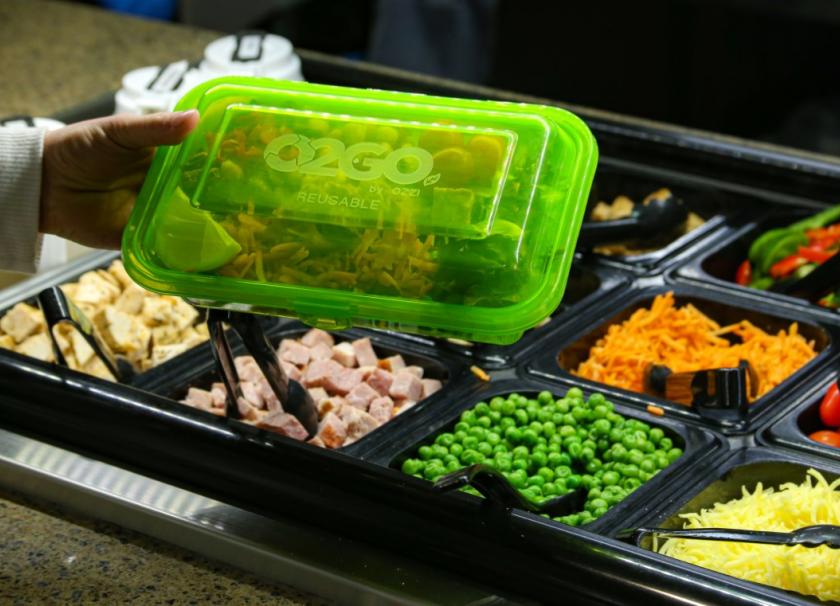 January 1st, 2020
Sustainability Update: Building on a Strong Foundation
Sustainability Update
Our team has been working on many different projects throughout the year, taking great steps to fulfill our four sustainability goals. Our four goals to achieve by 2030 are: carbon neutrality, zero waste, eliminating toxic chemicals, and being a leader in our sustainable community. We look forward to our sustainable success in the upcoming decade! 
Zero Waste
Last year we introduced two options for reusable produce bags. We offer a cotton bag and a bag made from recycled plastic, both for only 50¢. Over the past year, we have sold over 16,000 of these reusable bags. We also began charging 2¢ for new plastic bags. 
These two changes have made a massive impact at our co-op. In 2019, we have ordered 100,000 less plastic produce bags than in 2018! This is all thanks to you, our member-owners.
You may have noticed a new box by the Info Desk for our cork collection program. We have partnered with ReCork, a company that takes used corks and upcycles them into yoga blocks, shoes, and surf traction pads. So far we have recycled over 100 lbs of corks! That's nearly 9,000 bottles of wine - all for a good cause. You can learn more at the ReCork website.
We also made a switch in our soup lids, from plastic to paper. These small changes throughout our Co-op make all the difference. 
Check out this video reviewing the Co-op's bag options:
Behind the Scenes
We take waste very seriously - enough to dig through it all! Our team conducted several waste audits in different departments this year, with guidance from Recology. It's just as fun as you can imagine - separating out every discarded item into a category, weighing it, and reporting back with photos. We looked through trash from the Deli, Produce, our administrative offices, and yes, even our customer trash and recycling. 
We discovered that we throw away a lot of plastic nitrile gloves, and decided to make a change. In our Produce and Specialties department, we began a pilot for a glove take-back recycling program through West Coast Paper. By the end of 2020, we plan to see all of our gloves upcycled store-wide. 
But what about the customer trash and recycling? The reality is this: most of our customer recycling is too contaminated with food to be properly recycled. None of the take-out containers like coffee cups, burrito bowls, or purple take-out boxes are recyclable. Yet everyday these containers end up in the recycling, usually with food that contaminates the other items like paper or bottles. 
Rogue To Go
There is a solution on the horizon for 2020… we are beginning a pilot program for Rogue To Go, a reusable take-out container program! We are partnering with the City of Ashland and four other restaurants. When you buy-in to the program, you can use a provided bright green OZZI container to fill up directly from the Deli hot bar, cold bar, or have tacos or a sandwich to go! This revolutionary program will be the first of its kind in Oregon. We hope it will have a lasting effect to reduce single-use containers. 
Sign up for Rogue To Go at the Info Desk, and learn more at Rogue to Go's website.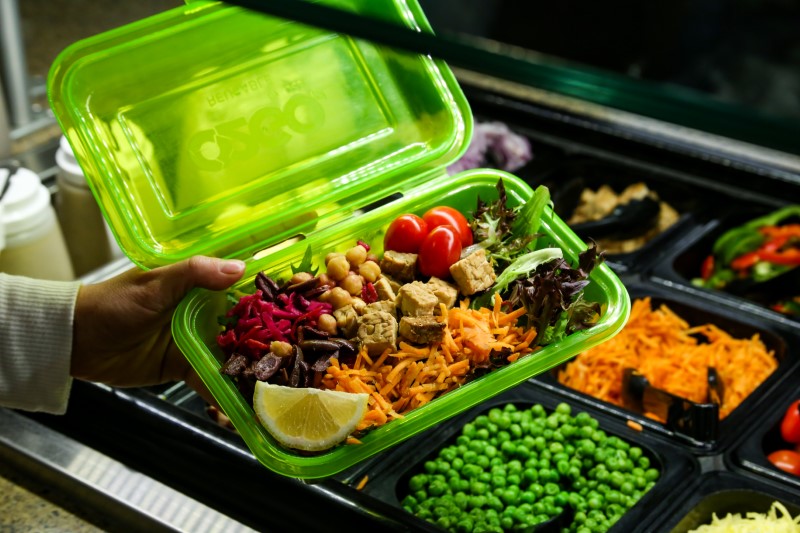 Energy Efficiency
2019 was the first year that we participated in a free program called Strategic Energy Management, offered by the Energy Trust of Oregon. We joined other organizations such as the Medford School District, City of Talent, Rogue Community College, and Oregon Shakespeare Festival to work on ways to reduce our natural gas usage. Our SEM Intern helped our team develop an Energy Policy, an Annual Plan, and achieve all five milestones for the year. 
Our biggest challenge was addressing our hot water usage. We successfully installed a new electric hot water heater in our Deli, helping to lower the temperature on our natural gas water heaters by over 30 degrees! Our intern, Nina, will be returning in 2020 to help guide us towards more energy efficiency. 

If you would like to learn more about our sustainability initiatives or have suggestions, contact Rianna at [email protected] 
More Co-op News