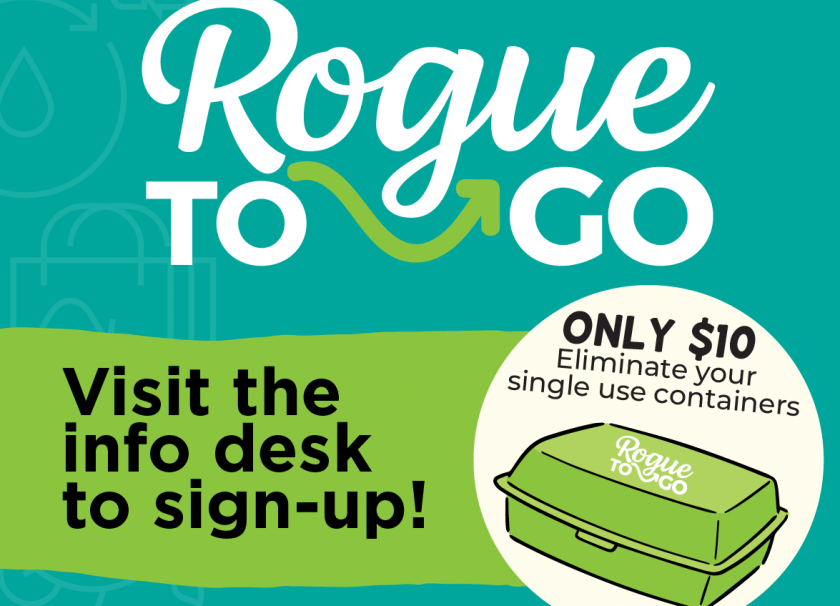 February 18th, 2020
Rogue To Go at the Co-op
We are excited to announce the official launch of Rogue To Go at the Ashland Food Co-op!
Rogue To Go is a reusable container pilot program. The pilot connects five participating restaurants by offering a reusable container that can be used for meals to-go and help eliminate single-use boxes. These O2GO containers are made locally in Bend, Oregon by OZZI. The bright green containers are 100% recyclable through a specialty recycler - truly zero waste!
How can you start using Rogue To Go? Check out the steps below and follow along with a walk-through video.
Buy In. You can sign up for a one-time cost of $10 at the Info Desk. You will receive a token, which can be exchanged for a clamshell or 16 oz soup container at the Deli Register. 
Fill up! Try a new salad, soup, or get your sandwich to-go. 
Chow down! (remember to clean your container as well as you would with your dishes at home!)
Swap - this is the most important step!
In order to comply with health code, every time you bring in a Rogue To Go container, you must exchange your used box for a clean container that has been sanitized at the Co-op. In order to continue the program, each one of us has to remember the swap. There is a drop-off slot for the exchange located at the Deli Pick-up counter. 

An easy way to remember the swap is: Always new, never used!
According to health code, Rogue To Go is the only reusable container that can be used at our self-serve hot and cold bar. We are the first and only grocer in Southern Oregon to offer a reusable container for our self-serve areas! 
You can also use Rogue To Go at Simple Cafe, Pie and Vine, Sesame Asian Kitchen, and Falafel Republic. Please return your container household clean, rinsed with no residue. 

Learn more at roguetogo.com.
More Co-op News