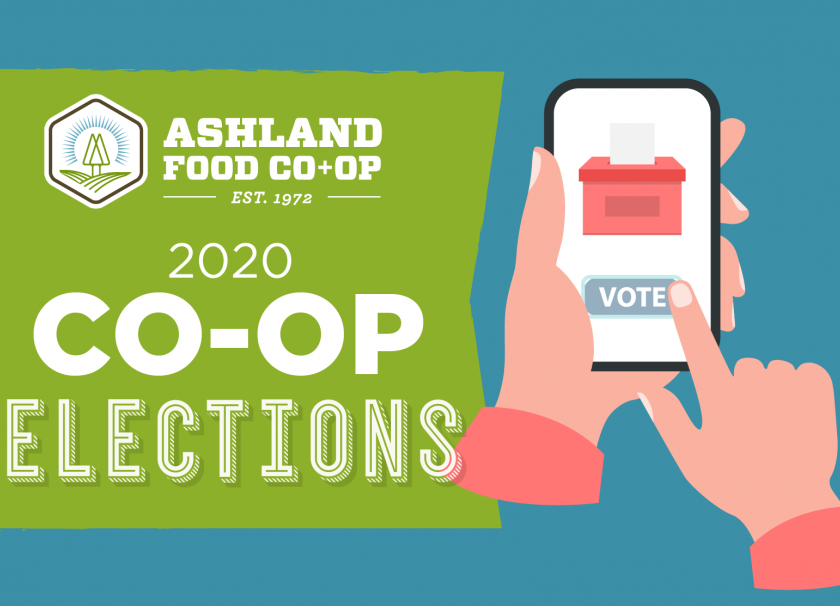 May 4th, 2020
Owner Voting on 2020 Co-op Board & more
As an owner of the Ashland Food Co-op, you are an important decision-maker in the leadership of the Co-op! A vital part of your ownership is voting for the Board of Directors.
On the ballot: Vote for Board Candidates and Change for Good Organizations
Vote for Board Candidates
This year, four candidates are nominated for three Board positions: each elected Board director will serve a three-year term. The candidates are Ed Claassen, Mark Gibbs, Carolina Livi and Julie O'Dywer.
You can read Board candidates' statements and biographies, and watch a short video about each candidate, or find more information about the Change for Good organizations by clicking this link.
Vote for Change for Good Organizations
This year, the AFC Gives Committee is very excited to introduce AFC's new Change for Good Program, which will enable shoppers to round up their purchases at the register so that the spare change will benefit a different local non-profit each month. In addition, each month the Co-op will partner with the designated non-profit to share their mission and engage our shoppers in their organization. This program is being planned to roll out in early autumn.
The AFC Gives Committee has reviewed a large number of grant applications, and has selected twelve finalists for the 2020-2021 Change for Good program. We are asking our owners to vote for their top ten organizations on the ballot. The ten organizations receiving the most votes will be our first round of Change for Good participants. Each month, one of the ten organizations that have received the most votes will be featured in the Change for Good Program. Brief descriptions of each organization's program and/or project are included on the ballot.
The twelve Change for Good finalists are:
Culinary Arts and Hospitality Management program at Ashland High School
Klamath Siskiyou Wildland Center (KS Wild)
Maslow Project
North Mountain Park Nature Center (NMP)
Our Family Farms Project
Pollinator Project Rogue Valley
Rogue Farm Corps
Rogue Valley Farm to School
Rogue Valley Mentoring
SOCAN Master Climate Protector Program
Southern Oregon Land Conservancy (SOLC)
St. Vincent de Paul Society
Voting procedure
As an owner, you will receive your ballot in an email from "Ashland Food Co-op ". The link you receive is unique to you - only you will have access to your ballot.@simplyvoting.com>
When you vote online, please confirm your voting selections for three Board candidates and ten Change for Good organizations by clicking on "Confirm" to have your vote submitted. After confirming your choices, you will see a checkmark with a "Success" message. That is when the vote is saved and counted. (If you leave the ballot before seeing the "Success" message, then your vote will not be submitted.)
Due to Covid-19, voting is online only. Ballots will not be available in printed form at the Information Desk.
Deadline & Results
Voting opens on Wednesday, May 27 at 9 AM. and closes on Wednesday, June 10 at 9 PM. Owners will receive election results via email in the following week.
If you have any questions about the voting process, please email [email protected].
More Co-op News