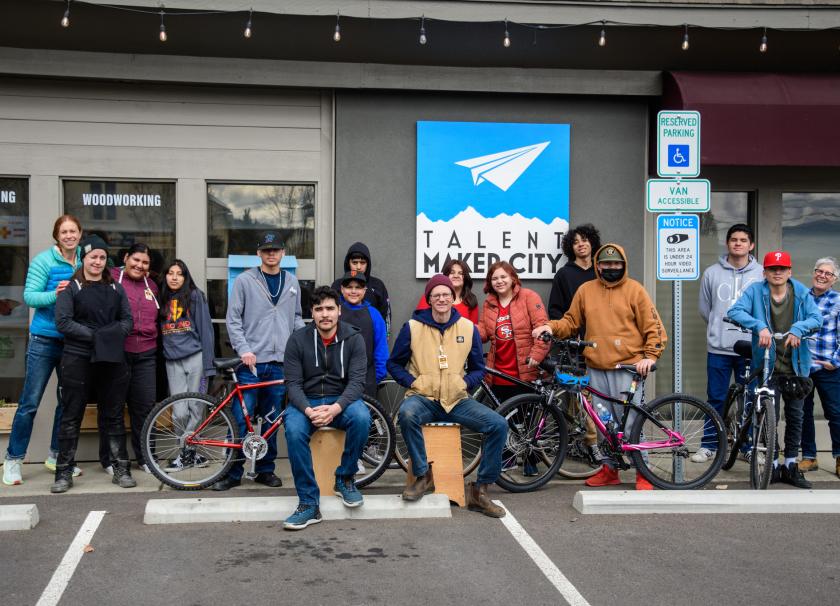 May 1st, 2023
May 2023 Change for Good Partner: Talent Maker City
Talent Maker City's mission is to build a more connected, prosperous, and resilient community through hands-on creativity and innovative STEAM-based learning. (STEAM = Science, Technology, Engineering, Art, & Math.) They have a bustling Makerspace facility, brimming with creative energy in downtown Talent offering hands-on STEAM-based workshops and programming for curious minds of all ages!
But TMC is so much more than a makerspace! They provide educational programs, support local business, and bring our community together by making things. TMC continues to offer Rise Up + Rebuild Programming to support folks impacted by the Almeda Fire (making beds and other needed items in workshops with families). During spring break and afterschool programming, students from Talent Middle School came to Talent Maker City to learn how to screen print, fix bikes and design unique puzzles on a hand-held Computerized Numerical Control (CNC). TMC is a regional hub for art, commerce, and innovation! 
When we make things together, we build our community.
More Co-op News