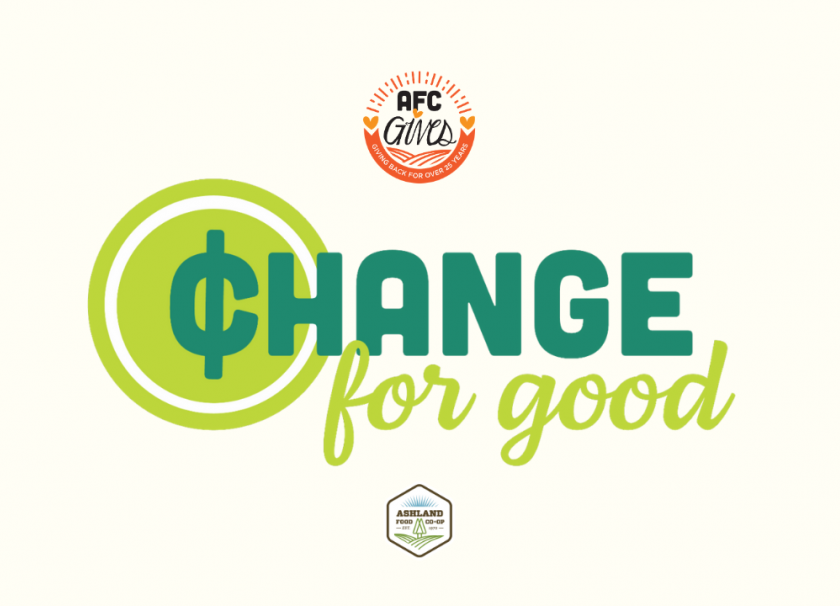 March 5th, 2021
Change for Good
2020 was the first year of the Change for Good partnership, a register round-up program to benefit a monthly slate of organizations, voted on by Co-op owners, through the cumulative donations of shoppers choosing to round-up their shopping total to the nearest dollar.
 
This is a recording of an informational webinar that is sharing information on our Change for Good program, the application process, and timeline.
Our Change for Good Application deadline is 𝟵:𝟬𝟬𝗽𝗺, 𝗠𝗮𝗿𝗰𝗵 𝟭𝟳𝘁𝗵, 𝟮𝟬𝟮𝟭.
The application can be found in the Change for Good section of our AFC Gives webpage
To learn more about AFC Gives and its funding programs, please visit ashlandfood.coop/afcgives
Here are some highlights from the webinar:
Organizations must:
   • Have documented tax-exempt status to be eligible
   • Have a Co-op member listed in the Organization or on the Board of Directors
   • Meet at least one of the AFC Gives priorities (detailed below)
   • Operate in Jackson or Josephine Counties
Featured Change for Good organizations will be required to:
   • Offer an info table at the Coop for two hours, twice per month (on hold until Covid distancing is lifted)
   • Provide marketing images and info for the Co-op's:
      - Weekly Sales Flyer (pending available real estate on flyer/insert)
      - Social Media posts (2)
      - E-Mail Blasts (2)
      - Printed Posters in Store (TBD)
      - Customer Displays (at each register and a larger display on the Community Monitor above the soup bar)
   • Provide a brief explanation of the organization's mission and work (for cashiers' interactions with customers)
   • Media:
      - Logo (AI or high-quality PNG)
      - 4-8 photos/videos/other content to share in marketing channels.
      - Any projects, stories or other information you'd like the Co-op to highlight.
      - An email (and optional social media postings) to your list encouraging your supporters to round-up for Change for Good during your featured month.
For 2021, we are looking for nonprofit organizations to partner monthly with the Co-op and its owners in support of five priorities:
𝗘quity, 𝗗iversity, 𝗜nclusion - Support for organizations that specifically focus on increasing diversity, supporting equity and inclusion and educate the public on anti-racism.
𝗕𝗮𝘀𝗶𝗰 𝗡𝗲𝗲𝗱𝘀 - Support for housing and homelessness; providing for food, shelter, and clothing; and addressing the needs of children in or on the edge of poverty.
𝗖𝗹𝗶𝗺𝗮𝘁𝗲 - Support for developing climate resiliency and sustainability.
𝗛𝗲𝗮𝗹𝘁𝗵𝘆 𝗙𝗼𝗼𝗱 - Increasing the awareness and viability of local food producers and support for sustainable agriculture.
𝗖𝘂𝗹𝘁𝘂𝗿𝗲 - Highlighting the arts and cultural programs that bring awareness to the coop principles of community, equity, and sustainability.
Applications will require an explanation of how the work of your organization addresses one or more of these priorities.
More Co-op News