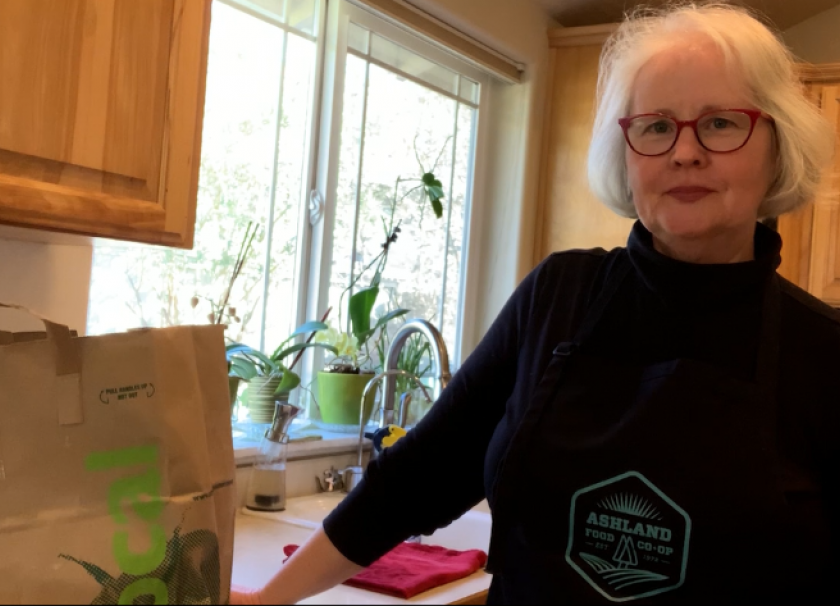 April 13th, 2020
Beans from Scratch
Michelle isn't serving up samples right now, so she's serving up kitchen tips instead! Here's her tried and true approach to cooking dry beans, plus some extra tips for upping your flavor, saving time, and cook other legumes. (Ingredients and modifications are below the video.)
Ingredients
ONE cup of dried beans will yield THREE cups of cooked beans.
1. Pour beans onto clean cloth, plate or sheet pan and inspect for rocks or beans that are funky looking. Rinse beans. 
2. Soak, soak, soak. Put the beans in a large bowl or pot, add cold water (at least 3 inches of water above the beans) and let soak overnight. Let them soak in lots of water, as it will ensure each bean has lots of water absorption. Massage the beans, rinse and refill water several times during the soak period. 
3. After soaking the beans, drain and rinse and put in a large pot. Add fresh water to cover the beans 2-3 inches. The cooking vessel size is important. Bigger is better as the cooking will be more even if each bean has room to cook. Bring to boil for a few minutes. Scrape any foam off the top, as needed. 
4. Cover beans, lower heat and let simmer on a gentle boil until the beans are done to the point you wish. If your pot is not deep enough, leave the lid ajar so the beans don't get foamy and boil over. 
5. At this point you can add a 3-4 inch piece of Kombu seaweed if you wish. Lift out the Kombu if it starts to break apart. Give the Kombu a taste, as you may enjoy the delicious snack that it is. 
6. Stir the beans occasionally. The beans should take about 1-2 hours to be cooked through.  
7. Salt the cooked beans to taste. One cup of (dried) beans to one teaspoon of salt is a good ratio.  
8. If you have a lot of the cooking liquid, you can drain it from the beans and bring the liquid back to heat to reduce to a creamy consistency. You can enjoy the juice with the beans or you can use the bean cream to flavor just about any soup, braise or even pasta sauces. 
Note:
Cooking garbanzos (chickpeas) may take double the time to cook. 
Kidney beans need extra soak time, lots of rinses and longer cook times. Canned kidney beans are a good alternative. 
Lentils and split peas do not need any soak time, just a good rinse. 
If you have an Instapot, crockpot or pressure cooker, cooking beans is even easier. Follow the instructions with your appliance. 
Remember to check out the Ashland Food Co-op website for lots of fabulous tried-and-true bean recipes.
You can add flavor components and aromatics toward the end of cooking. Beans really are better day 2 and day 3, so make plenty. Beans will keep well for about 5 days in the fridge, 3 months in the freezer. 
Here are flavor profile ideas for different bean types and can be enjoyed as a cold salad, soup, stew, chili, cassoulet, entree, burger, fritter, or a creamy hummus-like dip:
Pinto: Just salt! 
Black bean: Thyme, cumin seed, paprika, bay leaf, onion, garlic, bell pepper. 
Black eyed peas: Thyme, black pepper, chili flakes, onion, garlic, olive oil. 
White beans of all sorts: Rosemary, thyme, sage, bay leaf, parsley, celery, carrots, onion, garlic. 
Garbanzo: Leave plain to make hummus or make chickpea marsala with mustard seed, cumin seed, turmeric powder, coriander, fresh ginger, cilantro, onion and garlic. 
More Co-op News