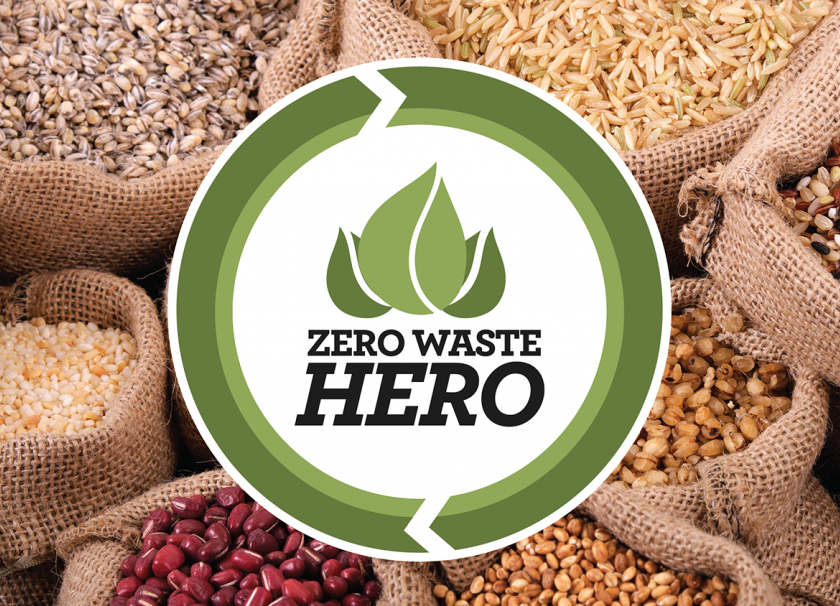 April 11th, 2018
Be a Zero Waste Hero in Four Easy Steps
By Stephanie Koerella, Education Coordinator
Reducing our waste has continued to be of greater concern for Rogue Valley residents, especially since January, when options for recycling became even more limited. While the Ashland Food Co-op is ramping up our efforts to reduce waste as a business, there is a lot that our community can do at home to help the cause.
If going zero waste in your home is overwhelming, my advice is this: Don't worry! Simply start small with these four easy steps. One of these steps is both easy and incredibly impactful, to "Share What you Learned", so really it's just three steps.
Stop Throwing Your Money Away 
It may surprise you that 20% of the food we buy never gets eaten and is thrown in the trash. Throwing out food is a double-whammy; not only does it waste resources that go into making the food and transporting it to our home, but the price adds up. It's like throwing your dollar bills right into the trash can. Being smarter about food helps save our planet's precious resources. For example, did you know that throwing out two overripe bananas (approx 1 lb) is equivalent to turning on your shower for 42 minutes straight? That's how much water is wasted with the tossing of two bananas!
Zero Waste Hero Exercise: Make a waste audit! Write down everything you throw out (at home and work) for two weeks straight. Notice any trends of what you frequently throw out and buy less of those items in the future. This helps you save money and precious resources.
Buy In Bulk
By refusing to pay for packaged goods, you're buying just food, not the carton. If you've taken my free Co-op class, Eating Right When The Budget's Tight, you'll know you can save an average of over 50% when you buy the same items in bulk. The co-op's bulk section hits all of your family's needs: herbs/spices, grains, beans, granola, nuts, flours, oils, vinegars, honey, dish soap, shampoo, laundry detergent and more. You'll never have to buy a plastic bottle of dish soap or a pound of pasta in plastic again.
Zero Waste Hero Exercise: Bring your own container and say no to plastic bags forever. We can save plastic bags from the oceans AND save money? Happy days! (For more info on how to weigh your glass jars, check out the scale in our bulk section or ask a friendly staff member.)
Bamboo Utensils
Your Flatware On-The-Go. Keeping a set of bamboo utensils in your car can help save the planet? Yes! You'll find that once you have bamboo utensils in your car, you're able to say "no thanks" to plastic forks and spoons. You'll be enjoying your summer ice cream or to-go salads sans-plastic. The world will thank you for taking this one simple step towards less waste.
Zero Waste Hero Exercise: Put Down The Plastic Straw. Several companies are making reusable straws out of glass, stainless steel, and other materials, so you'll never have to drink and discard again.
And Most Importantly, Share What You Learned
These practices may seem small, but when you add them up, you'll be blown away at how much waste you avoid in a day, a week, a month, and a year. We all want to reduce our footprint, and be better stewards of the environment. Here's your chance, spread the word!
More Co-op News