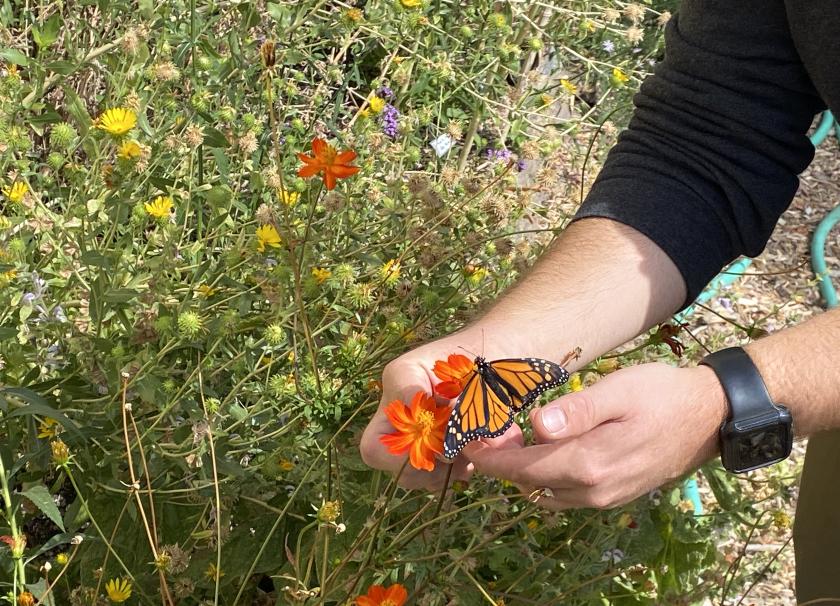 March 30th, 2023
April 2023 Change for Good Partner: Pollinator Project Rogue Valley
From Kristina Lefever, Pollinator Project Rogue Valley President
We have a reason, a way, and yes, a hope, that we as humans will act to insure the long-term sustainability of this beautiful place where we live. We believe that gardens, specifically pollinator gardens, are even more important now, because they provide not only a much needed respite for the remaining populations of pollinator species, but also a place for them to live, survive, and thrive in an ever shrinking larger landscape. It is becoming more and more apparent that gardens, spaces and "landscapes" can no longer serve only the interest of "us" - in fact, we must think about how our outdoor spaces can serve other creatures who live here, too, before it's too late.
Join us on our journey of discovery, beauty, and creation - how can planting native in our gardens and landscapes help restore our local ecosystem? There are many resources to inspire you to learn more about why and how to grow a native pollinator garden, or at the least, to add natives to your space, and help serve our native pollinator populations and the ecosystems that they support. We like to think our Resources page is a good one to get you started!
How can folks bring in more pollinators?
It's simple. A pollinator-friendly landscape provides:
1. Forage - Trees, shrubs, flowering plants, and native grasses that provide pollen and nectar from early spring to early winter, and/or are "host plants" for caterpillars (baby butterflies) to eat.
2. Water and/or mud - River, spring, seep, or stream, or shallow, pebble lined dish, bird bath or other water feature
3. Habitat - Untended or wild areas with bare soil, shrubs and native plantings for nesting and overwintering of bees, butterflies, and other pollinators
4. Pesticide Free Areas - Seeds and plants not treated with neonicotinoids, and minimal to no use of herbicides, insecticides, and fungicides.
How can people get involved?
Help us Bring Back the Pollinators!
Take a self-guided tour of our demonstration native plant garden with our Native Pollinator Garden Plant Guide and videos!
Invite Pollinator Pals to your school, youth program, business or event!
Learn about and GROW the native plants that best support our native pollinators! 
Contribute to help us create educational programs, videos, and materials about native plants and pollinators! 
Request PPRV to be a guest speaker for your group or at your event!
Support our efforts to install pollinator gardens of native plants in fire-impacted communities!
Follow us on social media!
Volunteer with us! We are especially seeking volunteers with videography, graphic design, and social media experience, as well as general administrative help.
The more you know... visit the Pollinator Project Rogue Valley's website to learn more!
More Co-op News