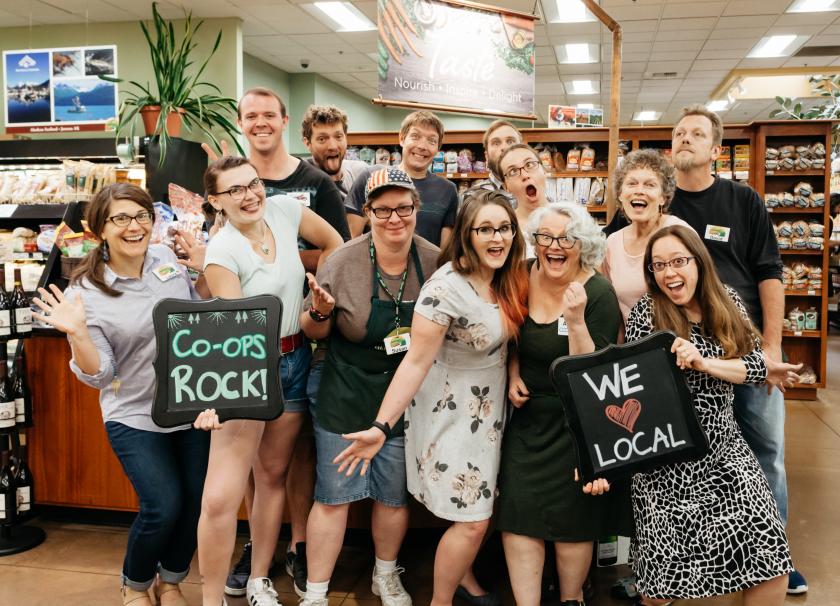 September 4th, 2017
5 Reasons to Love Co-ops
By Laura Pfister, Media Coordinator
October is National Co-op Month, so what's the big deal? Being a co-op is special. Yes, we know we are biased, but being a cooperative enterprise means we do business differently. We don't have a single owner living on their private island drinking margaritas all day without a care in the world. We are owned and governed by you, our 10,000 members. We share the burden in hard times and share the benefits in the good times. We put people, the planet and our principles before profit.
Co-ops come in more shapes and sizes than just natural food stores. From banks, dairy farms, child care and everything in between, cooperatives are an alternative business model to meet the social and economic needs of the communities they serve.
After hearing that and you don't already love co-ops, here's five more reasons why you should.
We are member owned, member governed, and operate for the benefit of our members.
Cooperatives are democratic organizations that are equally owned and controlled by a group of people. The Ashland Food Co-op is a consumer owned cooperative. Our members are the stakeholders, the shareholders and the governing board.
Your investment in the Co-op is an investment in the community. 
Because co-ops are democratically owned by community members, co-ops keep money and jobs in their communities. Twenty two percent of our total store sales come from selling local products. Every $1 spent at the Co-op has roughly 3 times the local economic impact as a $1 spent at a non-locally owned business.
Co-ops provide practical solutions to many economic, environmental and social problems.
In fact, that's exactly how the Ashland Food Co-op was started. In 1971, a small group of Ashland families joined together to form a food-buying club. Pooling their resources, they purchased food in bulk directly from distributors, saving themselves money and getting direct access to good quality whole foods. In 1972, they opened a small retail store and the rest is history.
Co-ops are part of an international grassroots movement that is growing in size and influence every day.
There are one billion co-op members globally. In the Rogue Valley, we have several co-ops, including Rogue Credit Union, Grange Co-op, Medford Food Co-op, Siskiyou Sustainable Co-op, Medford Apartments and yours truly. From banking alternatives to farm supplies or housing, each of us fulfills a different need in the community.
Co-ops strive to make our communities and economies more just and equitable, without exploiting people or the planet.
The Ashland Food Co-op's mission is to emphasize and source organically grown and ecologically sound products. Ninety nine percent of our produce is organic. Additionally, we plan to be a zero waste facility by 2030. Just last year, we recycled and diverted 81% of our discards from the landfill.
Across the Pacific Northwest, hundreds of co-ops provide goods and services as well as livelihoods for local workers. Each time you shop at AFC, you are part of a movement that believes business is better when it's in the hands of the people. Go Co-op!
More Co-op News