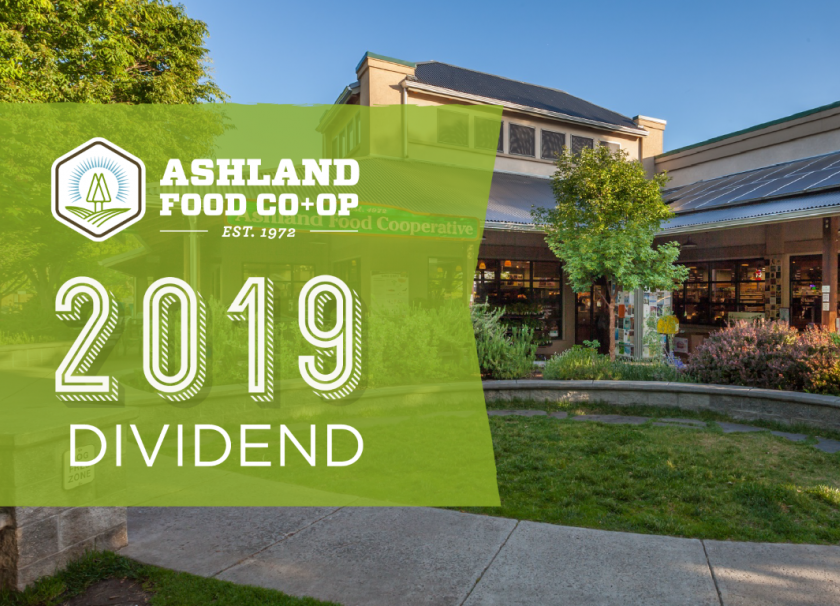 April 15th, 2020
2019 Patronage Dividends are available now

From the Board of Directors:
This year, the Co-op Board of Directors is taking unprecedented action to distribute 100% of the over $628,000 2019 Patronage Dividend to our owners. In this time of great need, there is no holding back. This is not the moment to put away funds for the future, but rather to support our owners fully so that we may all have more strength to weather the storm.
In most years, a portion of the dividend is reinvested in our Co-op to ensure the future health of the business. And since a healthy business relies on a healthy community, it's abundantly clear that our community's continued health is vitally important right now. Our community is the most important investment our Co-op can make.
We are living in an extraordinary time, and at the Ashland Food Co-op, that requires an extraordinary response in the service of our community. The Co-op has always considered Cooperative Principle #7, "Concern for Community," the most visible part of our work and most in line with our mission. Now more than ever, the Co-op way of "stronger together" has never been so empowering for our earth, our neighborhood, our community, and our Co-op.
With gratitude and appreciation for your support through the years, we look forward to a healthy and lively future together.
Yours truly,
The Ashland Food Co-op Board of Directors
Ways you can use your store credit:
Shop at the Co-op
Purchase a Gift Card 
Donate Your Dividend to the Ashland Emergency Food Bank 
Check, Please!

If you would like your dividend converted to a check, please email us at [email protected]. Please allow 30 business days for our team to prepare and mail your check.
More Co-op News