Lentil Soup with Smart Chicken Sausage
Warm up with this winter favorite. Add red chili flakes if you want to turn up the heat!
Meal Type
Budget Friendly
Entrees
Salads & Soups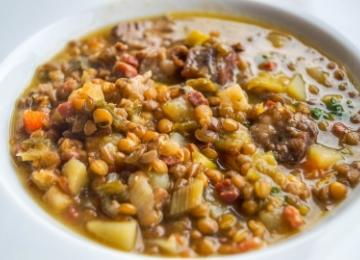 Ingredients
1 tablespoon olive oil
1 onion, chopped
1 pound ground chicken sausage (mild Italian or French apple)
1 bunch kale, collards, swiss chard or spinach, chopped
1 14.5 ounce can diced fire roasted Muir Glen tomatoes
3 cloves of garlic, minced
1/4 tsp pepper
1 tablespoon Tamari
2.5 cups uncooked French lentils
6-8 cans (from the tom sauce) of water
1 stalk celery, chopped
2 carrots, diced
2 bay leaves
1/2 teaspoon dried oregano
1/4-1/2 tsp. sea salt
2
Sauté onions in olive oil over medium heat for 7-10 minutes.
3
Add chicken sausage and sauté until it is no longer pink.
4
Add celery, carrot, and garlic, sauté for 3-5 minutes.
5
Add lentils, tomatoes, pepper, bay leaf, oregano, Tamari and one can of water. Stir and simmer for five minutes.
6
Add 3 cans of water (use the tomato can)
7
Simmer for 1 hour (check about halfway through to see if lentils are done).
8
Add kale (or other greens) and more water.
9
Continue simmering for an additional 15-30 minutes until greens are tender.
11
Serve hot with crusty bread or corn tortillas. Topping options include: A drizzle of balsamic vinegar, a squeeze of fresh lemon, crumbled feta cheese, grated dry Italian cheese (like parmesan or Asiago), chopped fresh parsley
12
Consider adding additional vegetables such as burdock, winter root vegetables, diced potatoes, green beans, diced eggplant, and/or diced zucchini.