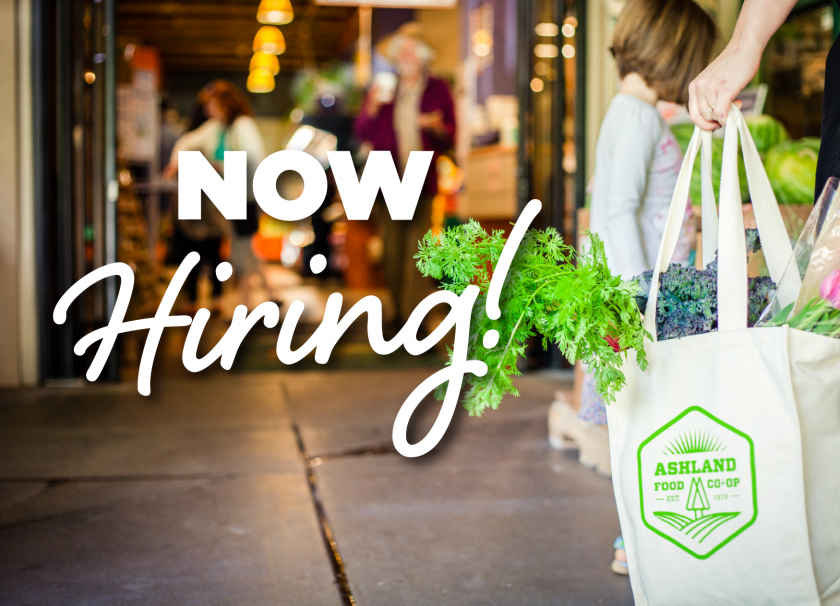 Prepared Foods Department Supervisor
Join the team at the Ashland Food Co-op!
The Co-op is proud to provide our employees with a fun, professional workplace with opportunities for growth and advancement. Our employees receive affordable healthcare, 3.5 weeks of paid time off in your first year for vacation and sick days, matching 401k plan, a 15% employee discount on all store purchases, and so much more!
Job Summary: This position is responsible for supervision of the deli operation to ensure customer service standards are being met, quality and presentation are consistently excellent, and safe good handling procedures are being followed. This position contributes to the department by maximizing sales and controlling costs and other expenses.
Qualifications:
Experience supervising employees in a food service operation.
Experience in the preparation and cooking of natural and organic food.
Schedule flexibility - must be available to work up to 40 hours per week, any shift or day of the week, including weekends and holidays.
Natural and organic food knowledge is a plus.
Excellent customer service, interpersonal and communication skills.
Ability to communicate, train and reinforce performance expectations.
General Responsibilities:
Directly assist staff as needed in food production ensuring food safety and quality.
Assist in the supervision of the day-to-day department operation.
Maintain safe working conditions.
Excellent communication skills with a positive and upbeat attitude.
Provide prompt, attentive, and helpful customer service.
Treat all coworkers positively and respectfully, and lend a hand willingly when needed.
Work quickly and follow procedures.
If you are interested in joining our amazing, vibrant and fun cooperative community, please complete our Employment Application to be considered for employment. This may be filled out online using the "Apply Online" link below, or you can pick one up when you visit our Co-op at 237 N. First Street, Ashland.