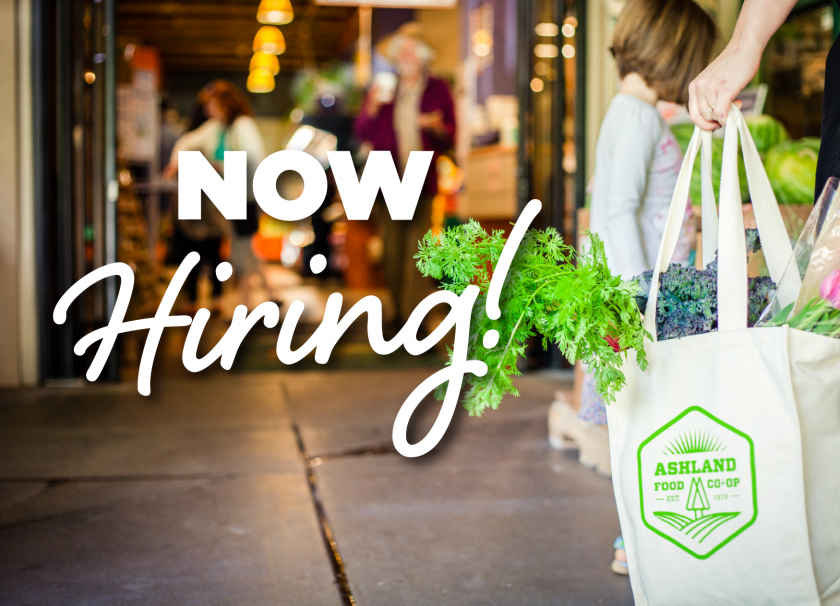 Cleaner – Temporary Part-time Sub
Are you interested in a position in our vibrant, fun cooperative community?
We have an IMMEDIATE part-time opening for a hardworking, cheerful person to clean, assist customers, and support the team to ensure that customers are offered pleasant and friendly service.
Ashland Food Co-op is the region's only Certified Organic Retailer. We're dedicated to providing the best customer experience and the highest quality foods in the region. 

We provide a workplace with opportunities for participation, empowerment and growth in an environment of mutual respect and cooperation.
Benefits include a 15% Employee Discount on store purchases, and Paid Sick Days.
Job Summary: To work as part of the Front End Team to clean, assist customers, and cashier.
Qualifications:
Ability to lift/move 40 pounds frequently, with 50 pound lifting occasionally required.
Hours are 0 to 26 per week
Ability to stand, stoop, kneel and walk throughout the shift.
Scheduling flexibility is required.
General Responsibilities:
Duties include store cleaning tasks
Provide prompt, friendly and helpful customer service
Cashier
Reliable and punctual attendance
Treat all coworkers positively and respectfully, and lend a hand willingly when needed
Work quickly and follow procedures
If you are interested in joining our amazing, vibrant and fun cooperative community, please complete our Employment Application to be considered for employment. This may be filled out online at
www.ashlandfood.coop or you can pick one up when you visit our Co-op at 237 N. First Street, Ashland.