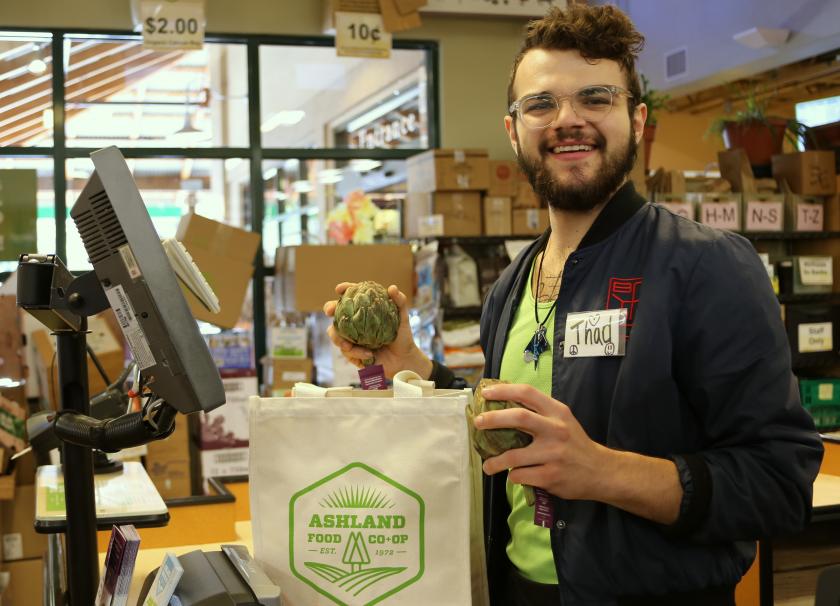 Cashier - Front End Assistant
Are you interested in a year round position in our vibrant, fun cooperative community?
We have IMMEDIATE openings! We're looking for hardworking, cheerful people with a passion for food, learning and creating delight for others.
Ashland Food Co-op is the region's only Certified Organic Retailer. We're dedicated to providing the best customer experience and the highest quality foods in the region. 

We provide a workplace with opportunities for participation, empowerment and growth in an environment of mutual respect and cooperation. We offer highly competitive wages with regular pay increases, shift differential and weekend pay. Our outstanding benefits include:
15% Employee Discount on store purchases 
Generous Paid Vacation Time Off 
Excellent Medical, Dental, Vision, Short- and Long-Term Disability benefits 
Paid Sick Days 
Quarterly Productivity Bonus Opportunity 
Annual Profit Sharing Bonus Opportunity 
401(k) Retirement Plan with Co-op Matching Contribution 
Paid Training on work skills, leadership development and general life interest classes 
And many more benefits
Job Summary: To work as part of the Front End Team to cashier, clean, assist customers, assist grocery, and assist owner services to ensure that customers are offered pleasant and friendly service.
Qualifications:
Cashiering experience preferred.
Must be available to work up to 40 hours per week, any shift or day of the week including weekends and holidays. Scheduling flexibility is required.
Ability to stand throughout the shift and the ability to lift up to 50 pounds.
Natural and organic foods knowledge and experience a plus.
General Responsibilities:
Provide prompt, friendly and helpful customer service.
Interact with others in a positive and respectful way
Duties include some store cleaning tasks
Greet and interact with customers in a friendly way
Provide prompt, attentive, and helpful customer service
Seek out opportunities to provide extraordinary customer service
Reliable and punctual attendance
Treat all coworkers positively and respectfully, and lend a hand willingly when needed
Work quickly and follow procedures
Keep all displays and customer areas clean and organized
If you are interested in joining our amazing, vibrant and fun cooperative community, please complete our Employment Application to be considered for employment.  This may be filled out on-line, or you can pick one up when you visit our Co-op at 237 N. First Street, Ashland.