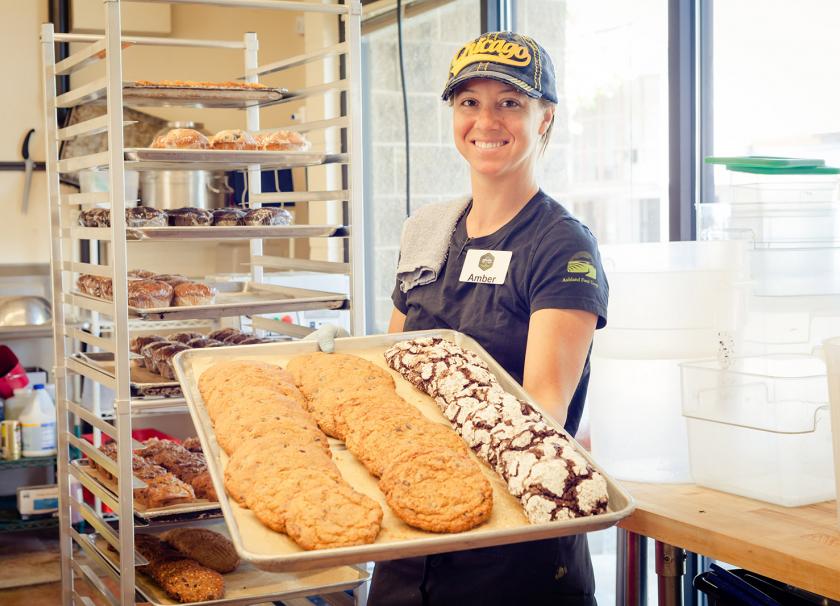 Baker
Job Summary:To prepare deli and bakery items to maintain fully stocked, attractive displays and provide prompt, friendly and helpful customer service. To perform a variety of tasks essential to the successful operation of a Prepared Foods Department.
The Ashland Food Co-op is looking for hardworking, cheerful people with a passion for food to join our Bakery Team! The Bakery team is responsible for putting out the delicious Co-op goodies we all enjoy and love so much!
The Co-op proudly offers competitive wages with regular pay increases, shift differential pay, 15% employee discount on all store purchases, and opportunities for growth and advancement!
Qualifications:
Commercial or professional baking experience required. Organic baking experience is a plus
Ability to stand throughout the shift and the ability to lift up to 50 pounds
Schedule flexibility
Current Oregon Food Handlers Card is required.(Attach copy)
General Responsibilities:
Plan a full day's baking with maximum production value
Baking with a myriad of flour types with a focus on organic and healthy
Ensure accurate and sanitary product processing, packaging, and pricing
Greet and interact with customers in a friendly way
Provide prompt, attentive, and helpful customer service
Reliable and punctual attendance
Treat all coworkers positively and respectfully, and lend a hand willingly when needed
Work quickly and follow procedures
Keep all displays and customer areas clean and organized
If you are interested in joining the Co-op team, please complete our Employment Application to be considered for employment. Click the "Apply Online" link below to get started now, or pick up an application at our info desk on your next visit. We look forward to hearing from you!