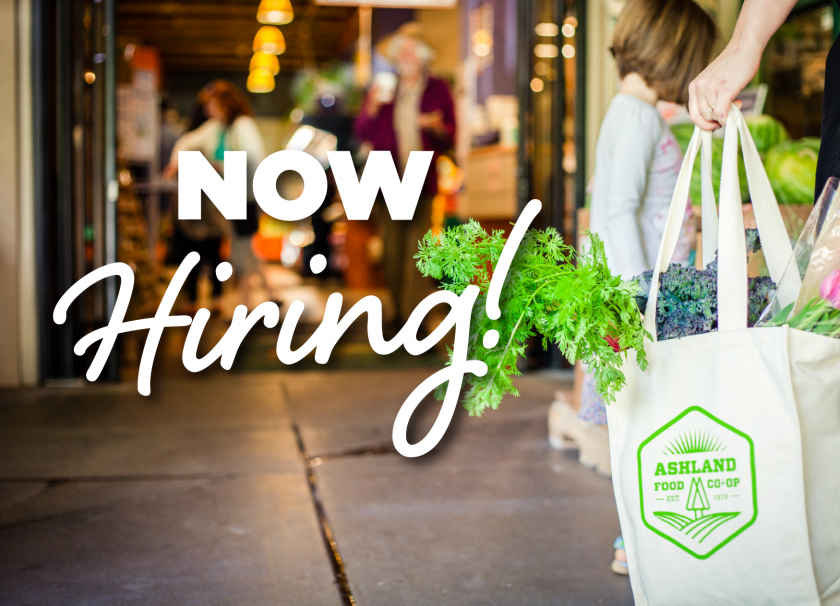 Administrative Assistant Manager
Job Summary: To assist the Prepared Foods Manager in running the Prepared Foods Department, focusing primarily on administrative tasks, to meet objectives for sales, margin, customer perspective and customer service, and to ensure that department policies and procedures are being followed. This position plays a critical role in the execution of detailed, time sensitive tasks. This position supports the Prepared Foods leadership team allowing for a clear focus on sales, production, training, safety, customer satisfaction, and housekeeping.
The Ashland Food Co-op is looking for a hardworking, organized, detail oriented person to join our Prepared Foods Department! Ashland Food Co-op is the region's only Certified Organic Retailer and we are proud to offer our community delicious, healthy prepared food options. We are dedicated to providing the best customer experience and the highest quality food and products to our shoppers each day.
We provide a fun, professional workplace with opportunities for participation, empowerment and growth in an environment of mutual respect and cooperation. We offer competitive wages with regular pay increases, shift differential and weekend pay. Some of our outstanding benefits include: excellent medical, dental, and vision benefits, generous paid vacation, paid sick days, matching 401K plan, 15% employee discount on all store purchases….and many more!
Qualifications:
Experience supervising employees in a food service operation
Strong communication skills, listening skills, and the ability to give clear instructions, coaching, guidance
Demonstrated ability to follow through on commitments
Demonstrated ability to handle multiple demands
Strong understanding of cooking techniques with natural and organic foods
General Responsibilities:
Department scheduling, including time and attendance maintenance and proper coding per store procedures
Coordinate the Prepared Foods Evaluation process
Coordinate employee orientation and training
Maintain accurate electronic and paper filing as needed
Ensure safe working conditions and all staff is trained in safe working procedures and consistently monitored
Keep Manager informed of workplace issues and maintain strict confidentiality about personnel issues
Greet and interact with customers in a friendly way
Provide prompt, attentive, and helpful customer service
Reliable and punctual attendance for all scheduled shifts
Work quickly and follow store procedures
If you are interested in joining the Co-op team, please complete our Employment Application to be considered for employment. Click the link below to apply now, or pick up an application at our info desk on your next visit. We look forward to hearing from you!