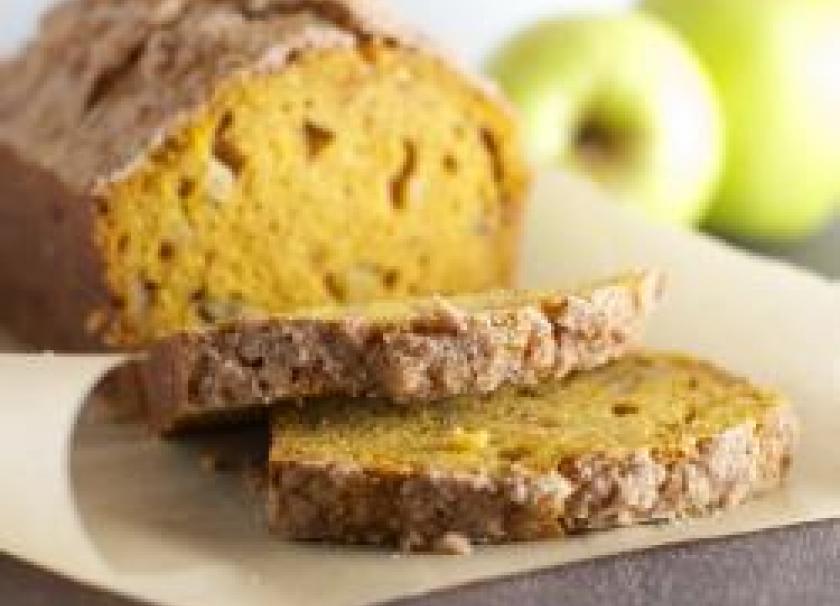 October 24th, 2013
Wheat Free Pumpkin Apple Bread
Continuing with the lunchbox theme and heading quickly into Halloween, I thought a good pumpkin recipe was in order. This recipe has a lot of ingredients, but the finished product is wheat free and sweetened with maple syrup. Baked into little loaf pans or muffin pans, it will easily pack into your child's lunch for a homemade bite of deliciousness to warm them with love from the inside out. Enjoy!
• 3 cup brown rice flour
• ½ cup coconut flour
• ½ cup tapioca flour
• ½ tsp xanthan gum (the brand we sell at the co-op is GMO free)
• 1 T baking powder
• 1 t baking soda
• 1 t sea salt
• 1 t cinnamon
• ½ t nutmeg
• ½ box of soft tofu
• 2/3 cup sunflower oil
• 1 1/3 cup maple syrup
• 2 cup soymilk or other milk
• 1 can pumpkin
• 1 T vanilla
• 1 large apple, diced
Whisk all dry ingredients together in a large mixing bowl.
Mix all remaining ingredients EXCEPT diced apples in blender.
Add wet ingredients to dry ingredients and mix by hand until fully blended.
Fold in diced apples.
Pour batter into well sprayed mini loaf or muffin pans. This recipe will make about 12 or 24 depending on the pan size.
Bake at 350 degrees, about 45 minutes until toothpick comes out clean
Cool for 10 minutes and then invert pan onto baking racks to cool completely
These breads can be stored in the fridge or wrapped and frozen for later.
Michelle, Deli Manager
More Co-op News