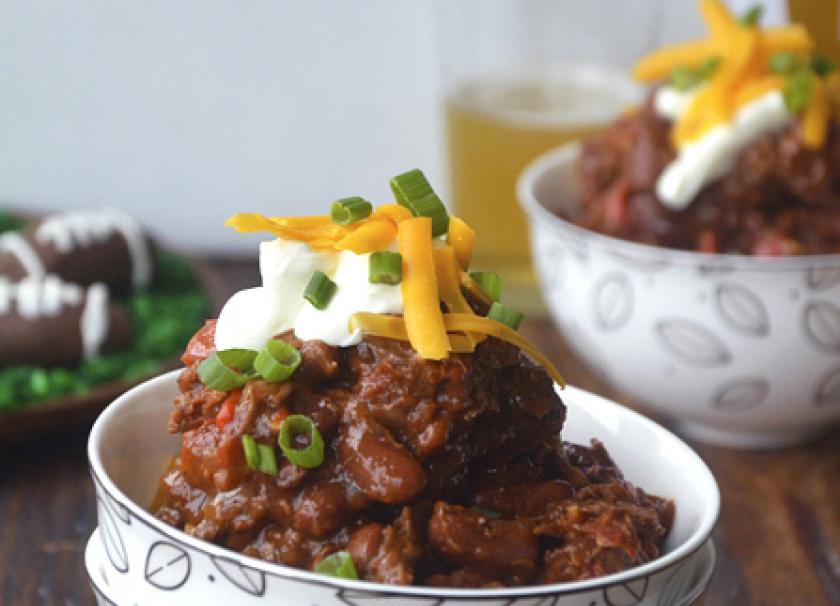 January 27th, 2014
Super Bowl of Chili
The Super Bowl is a food holiday whether you are a football fan or not.  Grocery stores put up displays featuring chips and guacamole, nacho fixings and all sorts of finger foods that are easy to eat while holding a beverage and jumping up and down screaming like a maniac.  According to the Hass Avocado Board, Super Bowl Sunday is one of the year's biggest avocado-eating days, with more than 53.5 million pounds of avocado eaten - enough to cover a football field with a blanket of avocados more than 20 feet thick.  This year, Americans are expected to consume 79 million pounds of avocados around the championship game. For those keeping score, that's roughly 158 million avocados.
I personally think that chili is the perfect food for Super Bowl Sunday.  I can soak the beans and do all my prep on Saturday and Sunday morning throw it all into the crock pot to be ready for game time.  I also like that chili is delicious and healthy topped simply with some green onions and avocados, but for my friends that want to load it up, it only gets better with cheese, sour cream, bacon, and black olives. 
Here is the Deli's Beef Chili recipe, no matter who you are rooting for; making this for your friends and family will ensure you are winner!
2 cup dried kidney beans, soaked overnight
1 lb ground beef (can omit for vegan chili)
1 T garlic, minced
2 cup onion, med diced
¼ cup chili powder
2 tsp cumin
1 tsp coriander
1T thyme, dried
1 T oregano, dried
1 T salt, or to taste
1 small can diced green chilies
1 cup green bell pepper, med diced
2 T tomato paste
24 oz tomatoes, diced
2 tsp lime juice
2 tsp Worcestershire sauce
¾ cup water or more as needed
Cook soaked kidney beans until soft, drain and set aside
Brown the ground beef in a large pot or Dutch oven, when almost finished add garlic, cook for 2 more minutes.
When beef is done, remove from the pot leaving 2 T of grease in the pan; discard the rest of the grease.
Add onions to the grease in the pot and sauté until soft
Add all of the spices and salt and cook for 2 minutes
Add green chilies, green peppers and tomato paste and mix well
Add tomatoes, Worcestershire sauce, lime juice and beans. 
Add water as needed to desired consistency.
Add beef and cook on medium high heat for 15 minutes.  Continue to let simmer until game time.
GO (insert your team name here!!!)
Michelle, Deli Manager
More Co-op News