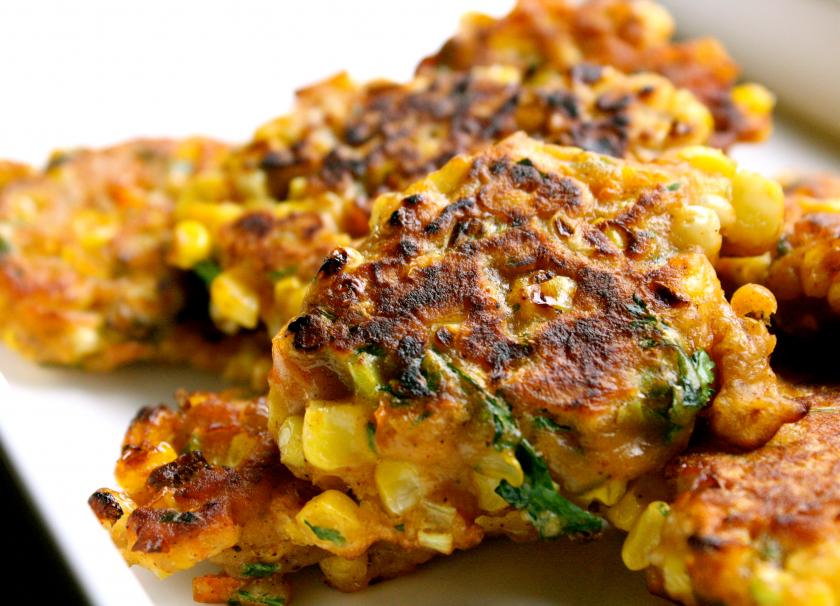 May 27th, 2015
Simple Fritters
As we usher out May and welcome June with open arms, it means potluck, wedding and vacation season are upon us full throttle. Simplified meal planning and a little creativity are key in making sure you're spending less time in the kitchen and more time outdoors basking in the sunshine.
Here are some quick time saving tips from my kitchen to yours. Plan one-pot or meal-in-a-bowl style dishes. Marinate your meat to infuse flavor and reduce grill time. Cook extra meats or veggies to fold into a salad or burrito the next day. Make extra grains, so that you always have an abundance on hand.
My go-to answer for the "there's nothing in the fridge" blank stare, is to make fritters.  Simply throw together some leftover grains, extra veggies and fridge tidbits into a bowl, mashing with a fork. Add some egg, breadcrumbs and seasoning, mix well and drop by heaping spoonful into an oiled pan and frying over medium-low heat until just browned on each side. Depending on the ingredients you've chosen, top with salsa, hot sauce, seasoned yogurt or avocado. Not only are these fritters fast, but they also use up leftover meal scraps that tend to get forgotten about until they turn fuzzy and blue.
Share your fritter creations with us on Instagram
@ashlandfood.coop #ashlandfoodcoop
More Co-op News