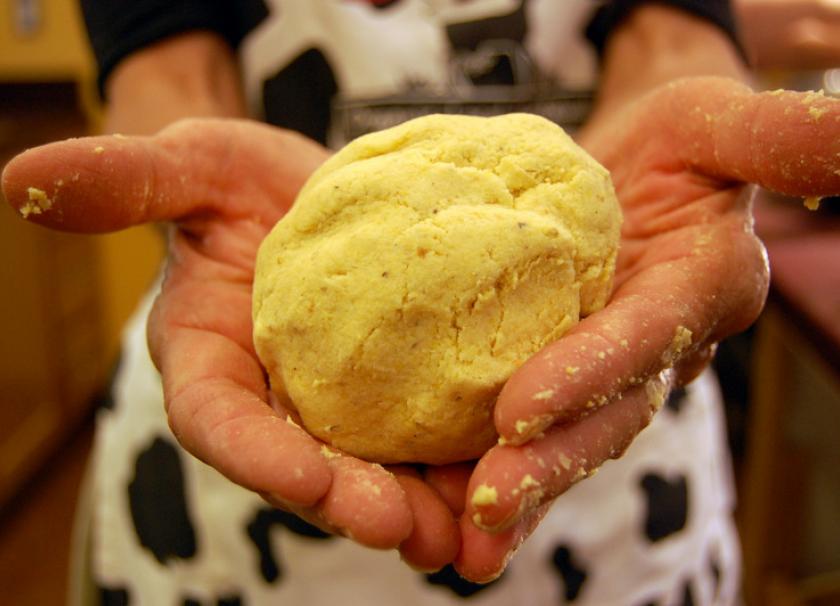 September 30th, 2014
Roll Your Own
Once you taste a homemade corn tortilla, there is no going back.  With a little practice, a tortilla press and a cast iron skillet you are set. Buy certified organic yellow or blue stone-ground corn masa flour from the Co-op's bulk section.  One pound will make about 48 tortillas and cost a fraction the price of premade ones. But the real difference is the flavor and texture.
Here's how to do it.  For 6 tortillas, place 1 cup of the masa in a medium size bowl.  Measure out 1 cup of water.  Use your hand to mix in about ¾ cup of the water.  Add enough more to make pliant, but not sticky dough.  You may add only another tablespoon of water or you may add all of it depending on how dry your masa is to start with.  Let the dough sit for at least 10 minutes.
Meanwhile set up your rolling station. Find a plate or basket the right size to hold freshly made tortillas.  Drape a cloth napkin over it.  Cut a reusable sandwich bag open on the two long sides.  This is the secret to getting your tortillas out of the press.  Place the bag in the press with the remaining closed side facing the hinge side of the press.  Heat the skillet on medium high until it is not quite smoking hot.
 Divide the dough into 6 balls.  Flatten one slightly and place it in the center of the sandwich bag on the press.  Close the press and gently apply even pressure.  Open the press and peel back one side of the plastic. Put it back on the tortilla, flip it over and peel back the other side of the plastic.  Transfer the tortilla to your hand and gently place it in the skillet.  Let it cook until the edges begin to lift up from the pan.  Using tongs or a spatula turn the tortilla over and cook just a few minutes longer.  Place it on the napkin and cover it up so it steams while you cook and continue to add more tortillas to the plate.
More Co-op News