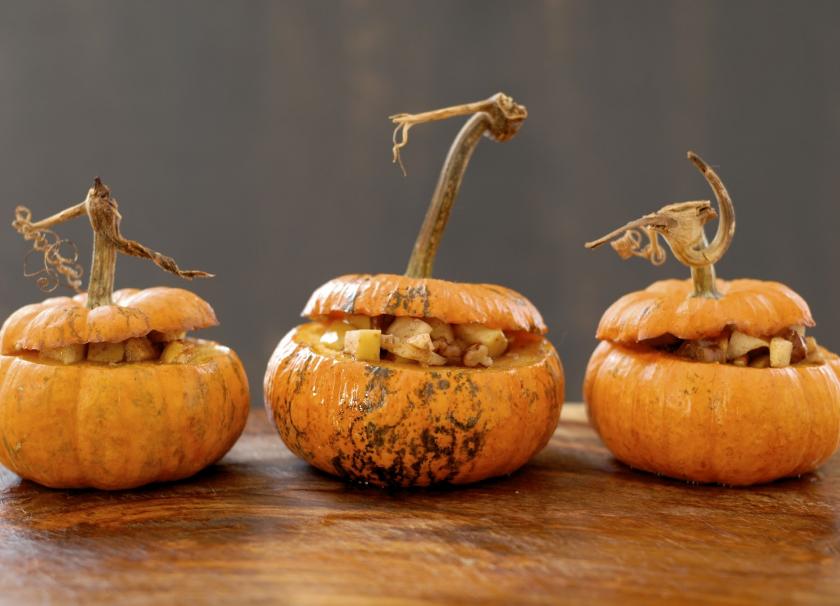 November 6th, 2013
Roasted Tiny Pumpkins
Every year, right about now, I start to gather recipes that I find intriguing and just may make it to my Thanksgiving table.  Some years I stick to tried and true family favorites that due to the sheer amount of times that I have prepared them, take very little effort.   Some years I give up on tradition entirely and eat crab or lobster or some other shellfish that is the nothing like turkey.  And some years, I get really ambitious and try something absolutely new and inspiring!  The recipe below was given to me by a friend of mine that I use to work with many years ago down in Bodega Bay California.  Every recipe he has shared has been stellar and this is no exception.  Even though it is lengthy in words, it is quite simple.  The gingerbread can be made ahead of time to make your Thanksgiving Day even easier.  The best part about this recipe is that it truly has WOW factor, so if that's the type of table you are setting for your friends and family this year, then you may want to try this one out!  For the stuffing, you will only be using about ¼ of the gingerbread that you make, so you could reduce the gingerbread recipe, or just eat the rest of the ¾ of the gingerbread right when it comes out of the oven, with some fresh whipped cream or just as is, it is delicious!  The gingerbread can also be frozen for up to a month.  Enjoy!
Roasted tiny pumpkins w/ ginger bread stuffing
serves 6-8
for the gingerbread:
1 1/2 cup boiling water
1 cup molasses
1 teaspoon baking soda
4 ounces soft butter
1 cup packed brown sugar
1 egg
2 1/2 cups flour
1 tablespoon baking powder
2 teaspoons ground ginger
1 1/4 teaspoon cinnamon
1/2 teaspoon salt
a pinch of ground cloves
For the pumpkins and stuffing:
6 – 8 little pumpkins
2 cups peeled, seeded, and diced butternut squash
2 shallots diced
1 apple, diced
1 stalk celery, dice
olive oil
kosher salt and freshly ground black pepper
To make the gingerbread, preheat the oven to 350F. With nonstick spray, spray an 11 x 13 pan. Stir the molasses and baking soda in the boiling water. Let cool to lukewarm. Cream the butter and sugar until light and fluffy. Add the egg. Sift together the flour, baking powder, ginger, cinnamon, salt, and clove. Alternately fold the molasses mixture and the dry ingredients into the butter mixture. Pour into the prepared pan and bake at for 30 - 35 minutes until toothpick comes out clean. Let cool. Remove the gingerbread from pan. Cut 1/4 of the cake into little 1/4 inch cubes. Place on a baking sheet and bake about 15 minutes more. Watch carefully, because it is a dark cake, therefore it is hard to differentiate between it's correct color and burnt. When you remove the croutons from the oven, they will still be a bit soft, but will firm up upon cooling. You can eat the remainder fresh for dessert with caramelized apples and sabayon or save it for stuffing another time. It can be wrapped well in plastic wrap and frozen for later use.
To roast the pumpkins and put the stuffing together, preheat the oven to 350F. Carefully cut the top out of each pumpkin and remove the seeds. Place on a baking sheet and sprinkle with olive oil, salt and pepper. Roast until tender, about 25 minutes. Meanwhile, on another baking sheet toss the diced butternut in a little olive oil, salt and pepper, and roast until just soft, about 17 minutes. In a saute pan on medium high heat, add 2 tablespoons olive oil. Add the shallots, celery and apples, and saute until fragrant and just beginning to color, about 7 minutes. Add the diced butternut squash and the gingerbread. Stuff the hot stuffing into the hot pumpkin and serve. I like to reserve the tops of the pumpkins and set them on top of the stuffing for presentation purposes.
Michelle, Deli Manager
More Co-op News