July 8th, 2013
Raw Cocoa Cherry Chia Bars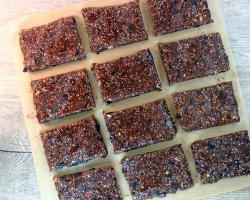 The sun is shining and the weather is sweet! I am training to run a half marathon next month, and I have been experimenting with making my own energy bars as I have found that when eaten before my runs, they tend to sit well in my tummy and give me the fuel that I need to get through the next mile. Here is a simple recipe that is a great to fuel your next outdoor adventure. Now get out there and enjoy the sunshine!
Raw Cocoa Cherry Chia Bars
1 cup pitted dates
½ cup dried cherries
⅓ cup raw unsweetened cocoa powder
⅓ cup whole chia seeds
½ tsp. vanilla extract
1 cup raw slivered almonds or raw shelled chopped pistachios
Oat flour for dusting
Place dates in food processor; purée until thick. Add cherries, cocoa powder, chia seeds, and vanilla extract. Pulse until all ingredients are combined. Add almonds or pistachios or a mixture of both; pulse until nuts are well distributed through date mixture.
Spread sheet of wax paper on work surface, and dust with oat flour. Transfer date mixture to wax paper, and use paper to press mixture into ı/2-inch-thick rectangle. Wrap tightly, chill overnight.
Unwrap block, and cut into bars. Dust edges and sides with oat flour, to prevent sticking. Rewrap each bar in wax paper.
These will keep in your refrigerator for at least 2 weeks, longer in the freezer.
Michelle, Deli Manager
More Co-op News