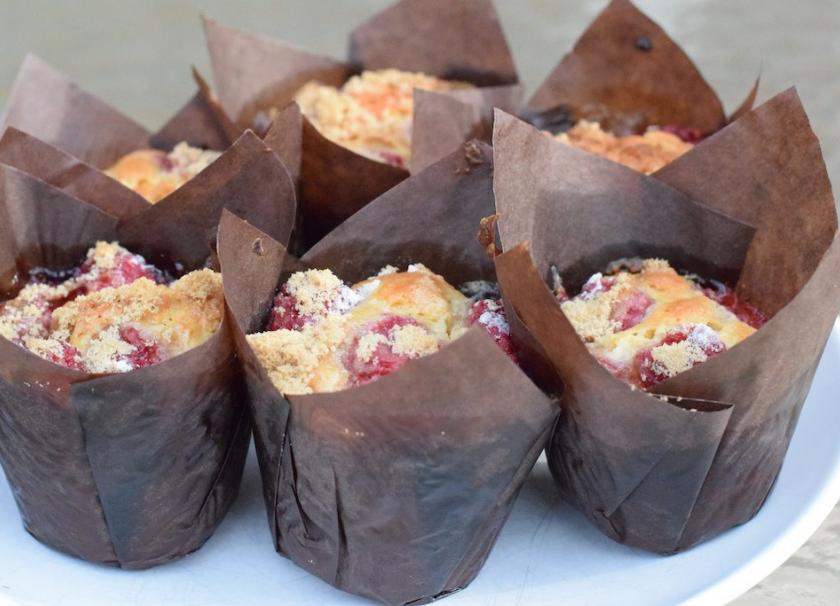 March 18th, 2015
Raspberry Streusel Muffins
It's almost spring and we'll soon be graced with sunny days. As the weather promises to get above 60 in the next few weeks, we might just have the chance to frolic in the grass shoeless, sipping on a tasty beverage, and dreaming about summer plans. Until that wonderful moment when we can throw our wool socks and boots deep into the back of our closets, we must create some sunshine in our lives. This recipe is one that I make anytime I need something special and fast, whether it's just for me, or for someone else I care about.
These Raspberry Streusel Muffins are perfect for wintertime because they utilize frozen raspberries. White spelt flour gives them a moist tenderness, and while they won't puff up high like their regular-white-flour cousins, the payoff is in the flavor and crumb.
Come to the Culinary Kiosk to taste these beauties and grab a recipe on Saturday, March 21st starting at 11am. Can't wait? Grab the recipe at www.ashlandfood.coop
Pecan Streusel Topping
¼ cup pecans, chopped
¼ cup brown sugar
¼ cup white spelt flour
2 Tablespoons butter, melted
Muffins
1 ½ cups white spelt flour
½ cup cane sugar
2 tsp baking powder
½ cup milk of choice
½ cup butter
1 egg
1 package Stahlbush frozen raspberries
Preheat oven to 375 F
Combine streusel ingredients with fingers until mixture is crumbly. Set aside.
Grease muffin tin with butter, or use paper muffin cups.
In a medium bowl whisk together spelt flour, cane sugar and baking powder.
Place butter and milk in small saucepan over low heat, until butter is melted. Pour into large bowl and blend with the egg. 
Gently stir the flour mixture into the wet ingredients until just blended.
Scoop 1 Tablespoon of batter into muffin cups, top with 3 berries. Repeat so there are two layers of batter and berries in each muffin.
Distribute the streusel topping over your muffins.
Bake at 375 for about 25 minutes, until an inserted toothpick comes out clean. Let stand 5 minutes before eating.
Try the recipe and share your photos!
Facebook: www.facebook.com/ashlandfoodcoop
Instagram: @ashlandfood.coop #ashlandfoodcoop
More Co-op News