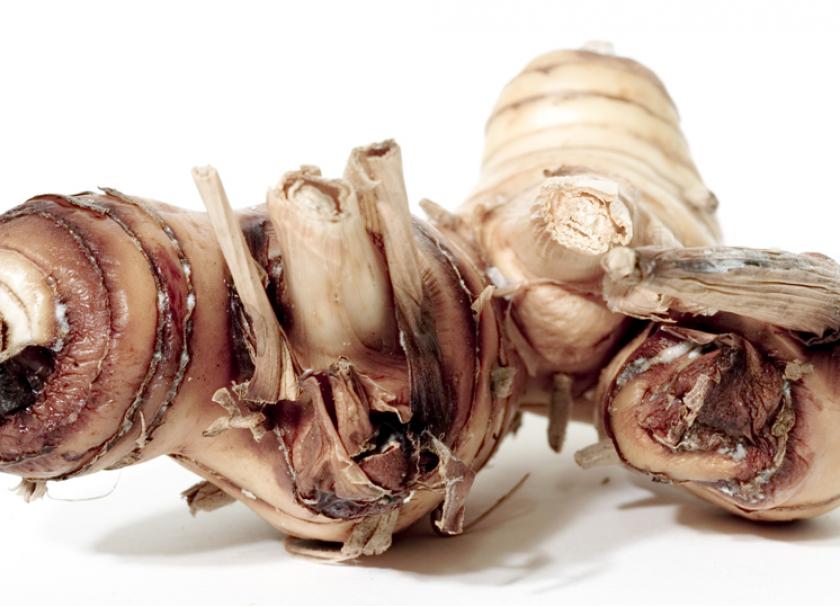 February 24th, 2015
Meet Galangal Root
One of the cornerstones of both Thai and Indonesian cooking is a root that looks like obese ginger. Galangal grows in same ecosystem as ginger, but unlike ginger it doesn't have a dormant season. In fact it is unstoppable.  Its tough fibrous roots are bound together by strong and sinewy feeder roots making the harvest a full body workout.  Once the root is wrestled out of the ground, it is divided into smaller manageable pieces.  This should give you a clue as to the edibility of the root.  While its flavor is uniquely aromatic and spicy, the texture is a little like a slice off a sapling tree. 
Many Thai soup recipes begin with warm coconut oil, slices of galangal, lemon grass and lime leaves (kefir). The aroma these three give off is intoxicating and distinctly Thai.  What you smell is the flavor imparted to the oil and therefore whatever dish you are creating.  Often the three are left in a finished soup. It's courteous to remind diners that all three of the aromatics floating in their delicious soup are not really edible even though they have created a memorable taste experience.
Thanks to a small family farm on the Island of Kauai, the Co-op has fresh ginger, turmeric and galangal delivered within a few days of when the order is placed.  Once the phone call is made by the produce buyer, the roots are dug and shipped the next day.  Check out the quality of all three of these roots next time you are buying produce.  They have bright color, are plump and moist and smell wonderful!   
More Co-op News