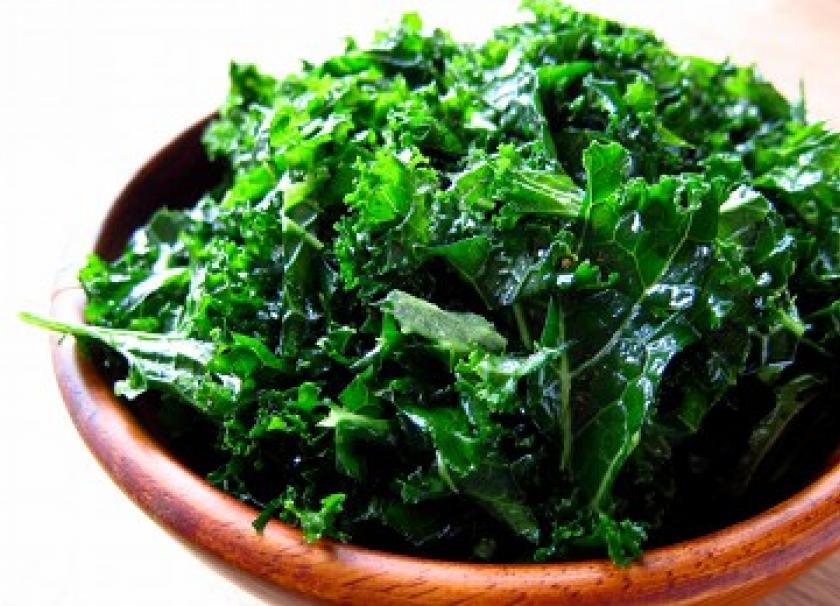 October 6th, 2014
Massaging Kale
Here's a way to "cook" a dark leafy green without ever turning a burner on.  Just give a bunch of kale a deep tissue massage with a little sea salt.  Start by desteming the leaves.  Pull them away from the stems with a quick motion.  Stack the leaves, roll up and cut into thin ribbons.  Place kale in a large mixing bowl.  Sprinkle with a scant teaspoon of sea salt.  Then begin the massage using your hands.  The LA Times says, "Give a deep tissue bone breaker amount of pressure." While this seems a bit extreme to me, the goal is to break down the tough cellulose structure of the leaves.  The whole process should take about 2 minutes. The ribbons will darken in color and their texture will become soft and silky.
Now that your kale is relaxed, try our favorite recipe for
Massaged Kale Salad
½ cup walnuts
1 bunch of kale massaged with about 1 teaspoon sea salt
¼ cup red or Walla Walla onion diced fine
¾ cup blueberries
⅓ cup biodynamic raisins
¼ cup olive oil
2 tablespoons rice vinegar
Preheat oven to 350 degrees.
Place the walnuts on an ungreased cookie sheet.  Roast in the oven for about 5 minutes or until just golden. Chop coarsely and set aside.
Place massaged kale in a good-sized serving bowl.
Stir onion, raisins, blueberries and walnuts into the kale.
Whisk the oil and vinegar together and pour over the salad.  Fold into the salad.
Taste to check the balance of flavors, adding vinegar or salt if needed.
More Co-op News