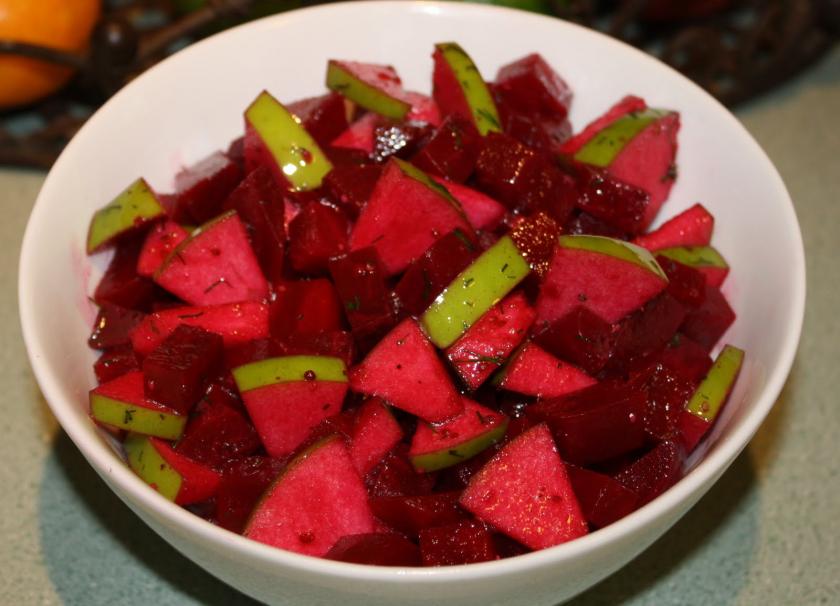 February 11th, 2014
For the LOVE of BEETS 2
As promised, some of my favorite recipes that feature beets.  If you are already a beet fanatic, maybe I am starting too simply for you, but knowing what I do about the bad rap beets get, I really want to start simple in hopes of converting a few of you.
Beet & Apple Salad
You may have noticed that my measurements are not often precise in my recipes, how can I even begin to guess that what tastes good to me tastes good to you?  That being said, think of my recipes as a guide and taste often as you create the dishes to find your own unique measurements.
Note: it's important to use green skinned apples in this recipe because the beets stain the flesh of the apples pink which really makes the green skin of the apple POP with color!  This salad is really as beautiful as it is delicious.
3 large beets, boiled and peeled
3 large granny smith apples, cored and sliced
Handful of small mint leaves
¼ cup apple cider vinegar or lemon juice
Dollop of honey
Sea salt
Boil and peel the beets and cut them into wedges so that they look similar in shape to the slices of apples.
Mix the vinegar or lemon juice with the honey, you may have to heat the honey to get it to melt into the liquid.  When combined pour over the beets.
Add the mint, I like to keep the leaves whole instead of chopping them because I think it is pretty and I really like to get a big mint flavor in the bites, but you can chop it if you prefer.
Michelle, Deli Manager
More Co-op News