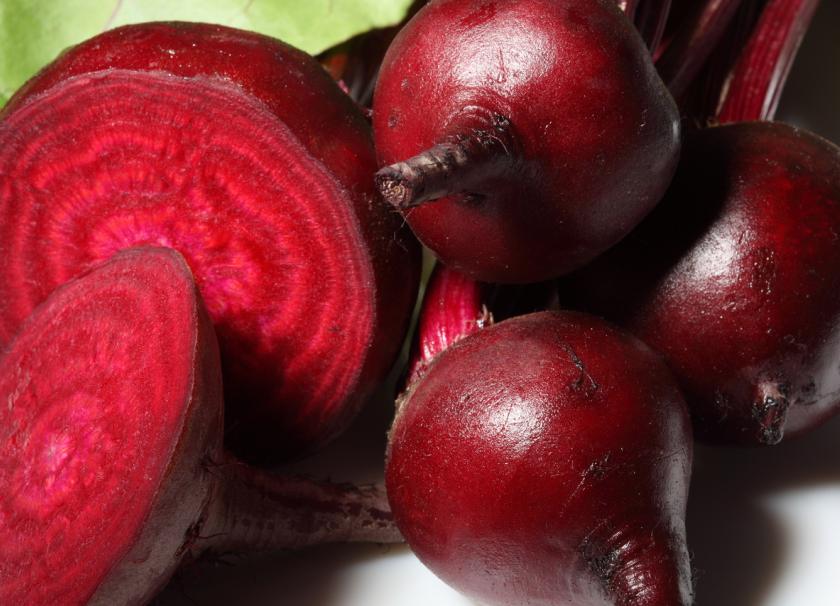 February 5th, 2014
For the LOVE of BEETS
"The beet is the most intense of vegetables. The radish, admittedly, is more feverish, but the fire of the radish is a cold fire, the fire of discontent not of passion. Tomatoes are lusty enough, yet there runs through tomatoes an undercurrent of frivolity. Beets are deadly serious.
Slavic peoples get their physical characteristics from potatoes, their smoldering inquietude from radishes, their seriousness from beets.
The beet is the melancholy vegetable, the one most willing to suffer. You can't squeeze blood out of a turnip..." Tom Robbins, Jitterbug Perfume
I have always loved beets. My parents grew them in our garden and I never thought it odd that I loved them as much as I did. I remember the first time I read Jitterbug Perfume, and I have read it many times, thinking that loving beets was something that made me part of some secret cool club, because in the pages of one of my favorite books the beet plays such a prominent role.
Beets can be sweet as sugar and sometimes dark and earthy, they vary as much in flavor as they do in appearance. The golden beets look amazing in a salad with chioggas. The red beets pair well with citrus and mint. I have come to find that many grown adults do not like, nor will even try beets. I find this astonishing as our culture eats more sugar than any other people in the world and sugar can come from beets. This month I will share some of my favorite recipes that feature the serious yet delicious beet in hopes that by the end of February, you will associate this month with love and flowers and chocolates and BEETS!
Simple Roasted Beets
Peeling beets after roasting is much easier than before, but trust me, doing it this way will let the flavors infuse into the beets as they roast, and you will not be disappointed.
3 large beets, peeled with veggie peeler and cut into wedges or diced Some good quality olive oil
1 tsp sea salt, I prefer the really chunky kind for roasted veggies
A sprinkling of pepper
Thyme, or mint, chopped fine
Zest and Juice of one orange or Meyer lemon
Splash of whatever vinegar you love
Preheat oven to ROAST 400 degrees
Peel the beets and wedge or dice. Toss with the olive oil, thyme or mint, salt and pepper.
Roast for 20 – 40 minutes depending on how large you cut the beets, roast until soft all the way through.
When finished toss with zest, juice and vinegar and season with a little more salt and pepper if needed.
These make a lovely side dish or you can refrigerate them to add to your next salad, or you could take it all a step further and pickle these after they are roasted. Any way you choose to enjoy them, do just that…ENJOY THEM
Michelle, Deli Manager
More Co-op News