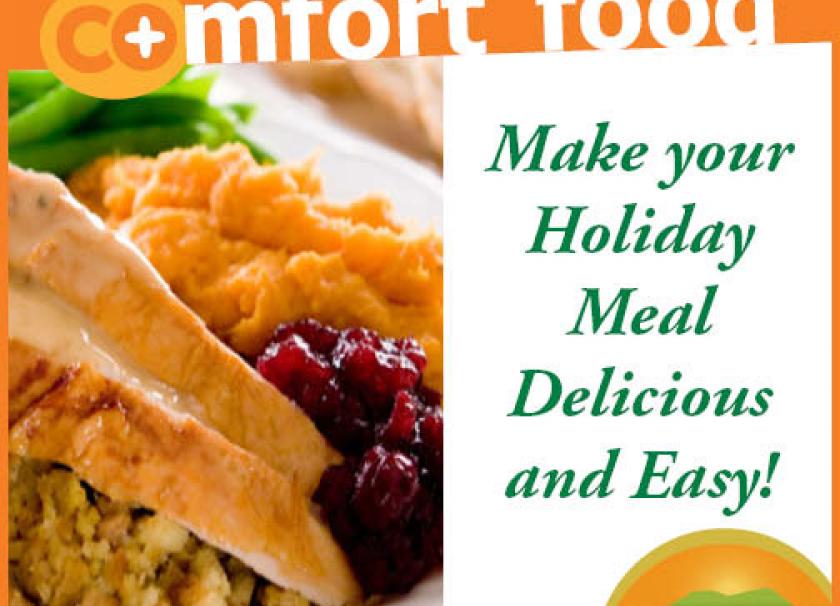 November 19th, 2013
Holiday Meals
Choose the Deli to make your Holiday Meal Delicious and Easy
Our Co-op Deli will once again be making our scrumptious ready to heat and serve Thanksgiving meals. We make everything from scratch in our homey co-op kitchen, from the pie crusts to the cornbread for the stuffing. All food is made fresh using the highest quality ingredients, all of our produce and grains are organic, our Diestel turkeys are free range and vegetarian fed. We support our local farmers and vendors and look forward to helping make your holiday delicious and easy.
Our Menu this year will feature: Diestel Free Range Oven Roasted Turkey, Vegan Mushroom Walnut Loaf, or Butternut Lasagna as our main dishes. For the sides we have: Classic or Vegan Mashed Potatoes, Green Beans Almondine, Maple Glazed Yams with Cranberries, Cornbread Stuffing with or without Sausage, Poultry Gravy or Vegan Mushroom Gravy, Cranberry Orange Sauce and La Baguette Dinner Rolls. Of course, Thanksgiving wouldn't be the same without pies! We will offer Pumpkin, Apple and Pecan and have options to meet the needs of your vegan and wheat free guests.
We have five pre-ordering options:
No Substitutions Please.
Our Traditional Turkey Holiday Meal will serve at least 6 people and includes a 10-12 lb Diestel Pre Roasted Whole Turkey and all the sides for $99. Pie is not included, but can be added for $20 with the purchase of a holiday meal. Please order early to ensure availability.
If you want to cook your own turkey, we can provide just the sides in your choice of Traditional or Vegan. Feeds at least 6 people for $70, pie is not included.
Pre-order any of the items on our Thanksgiving menu (excluding the whole turkey) ala carte for $8.95/lb. Items will also be available on our hot and cold bars and in the grab n go the week of Thanksgiving for last minute purchases.
Purchase a single portioned meal that includes your choice of main dish and all of the sides for $18.95. Add a slice of pie for just $2.95. Available in traditional or vegan, served on a microwaveable platter.
Just need a pie? You can pre-order our pies whole or by the slice and we will have our pies for sale starting Sunday November 24th. Look for them in the grab n go or near the registers.
In addition to all of the great options we will also have our full line of dips and spreads available in the grab n go, plus dips and spreads are available for pre-order to ensure availability.
Full menus are available online here or stop by the Deli Department and pick one up. For more information, answers to your questions, or to place an order stop by our deli or call 541-482-2237 x242. Thanksgiving orders must be placed no later than 8 pm Sunday November 24th.
Michelle, Deli Manager
More Co-op News