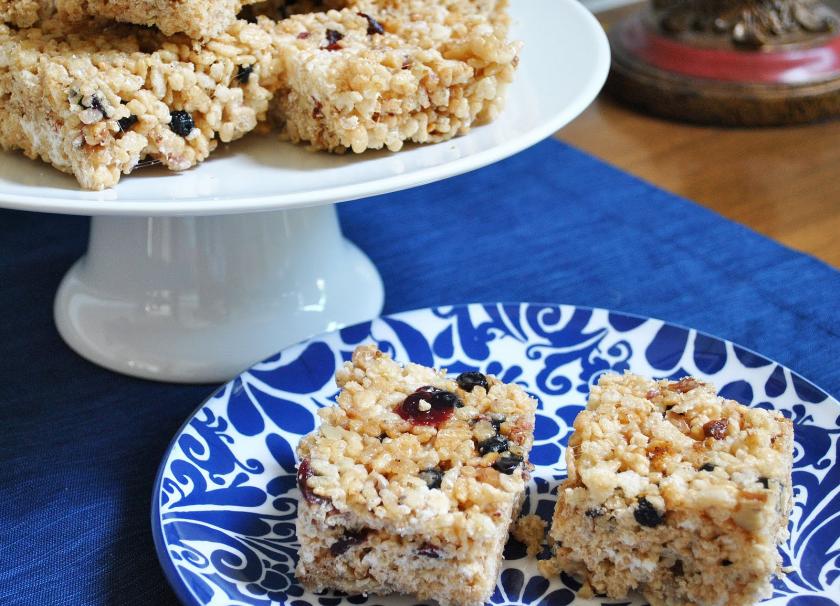 October 15th, 2013
Healthy Rice Crispy Treats
It seems that Rice Crispy Treats are synonymous with Halloween, why is that? Every magazine that I have thumbed through for the last month has had a Halloween theme with a ghost or pumpkin or witch shaped rice crispy treat at the center, and to make matters even more sugary, these treats are then dipped in chocolate. The fact that you can cut them into shapes makes them easy to theme with holidays, but marshmallow cream, butter, rice cereal and chocolate are not going to make the cut into my kids lunchbox, no sugar rule or not. Chloe, a long time baker here in the deli, came up with a healthy version of the rice crispy treat a few years back, and they are one of Stella's favorites! Whether you make them for your child's lunch box, or to give away at Halloween, I am sure this will be a recipe that you return to again and again. Enjoy!
Crispy Rice Pecan and Cranberry Bars
1 cup brown rice syrup
2/3 cup roasted cashew butter
1 ½ tsp vanilla
½ tsp sea salt
4 cup brown rice crispy cereal
1 cup pecans, chopped
2/3 cup shredded coconut
1 cup dried cranberries
Toast shredded coconut.
In a saucepan, heat rice syrup, nut butter, salt and vanilla until creamy
In a bowl combine cereal, nuts, dried fruit, and toasted coconut
Pour warm rice syrup mixture over dry ingredients and mix well
Press into buttered, sprayed, or greased baking pans
Cool in fridge for 30 minutes
Michelle, Deli Manager
More Co-op News