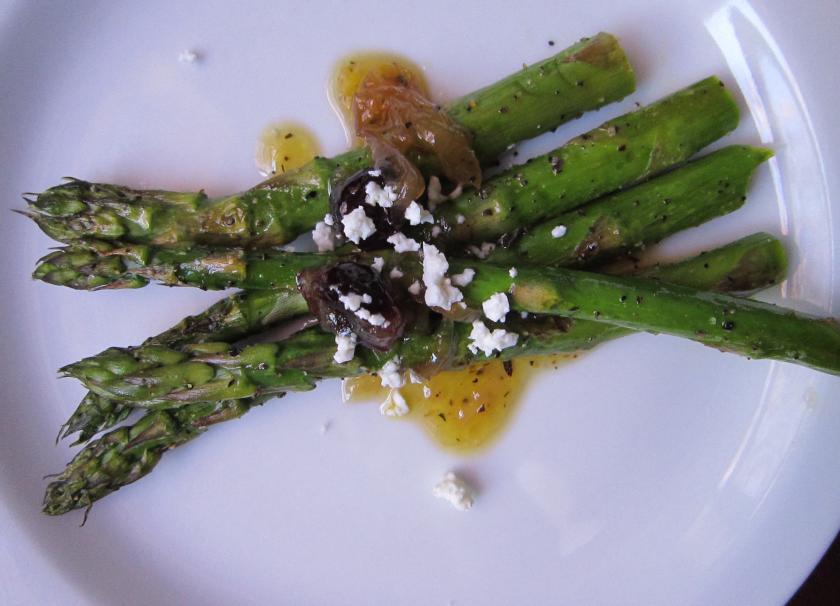 April 7th, 2015
Get Springy: Roasted Asparagus with Warm Rhubarb Vinaigrette
Every year around this time the earth awakens from dormancy, and springs forth in to full throttle lusciousness. If you eat with the seasons you'll notice that we now have an abundance of Asparagus and Rhubarb. Don't be intimidates by asparagus with fat-stalks, the rotund ones are simply female, and have nothing to do with freshness. Treat your body to new springtime flavors as you boost your immune system with this delicious recipe.
Roasted Asparagus with Warm Rhubarb Vinaigrette
5 tablespoons olive oil
¼ cup shallots, thinly sliced
1 teaspoon fresh thyme
¼ cup rhubarb, chopped
2 tablespoons dried sour cherries
3 tablespoons honey
2 tablespoons red wine vinegar
Sea salt and pepper to taste
1 bunch asparagus, ends snapped off
4 ounces fresh goat cheese
Pre-heat oven to 400 degrees.
Heat 2 tablespoons of the oil in a sauté pan and add the shallots and thyme.  Sauté for 1-2 minutes or until the shallots are a little golden on the edges. 
Add the rhubarb and cherries, cook for a minute longer.
Add the honey, red wine vinegar and remaining oil.  Remove from heat and add salt and pepper to taste.
Place the asparagus spears on a baking sheet.  Brush lightly with olive oil and season with salt and pepper.  Roast in the pre-heated oven for about 8 minutes or until just crisp tender.
Remove to a plate and drizzle with the dressing.  Sprinkle with bits of the cheese.
More Co-op News