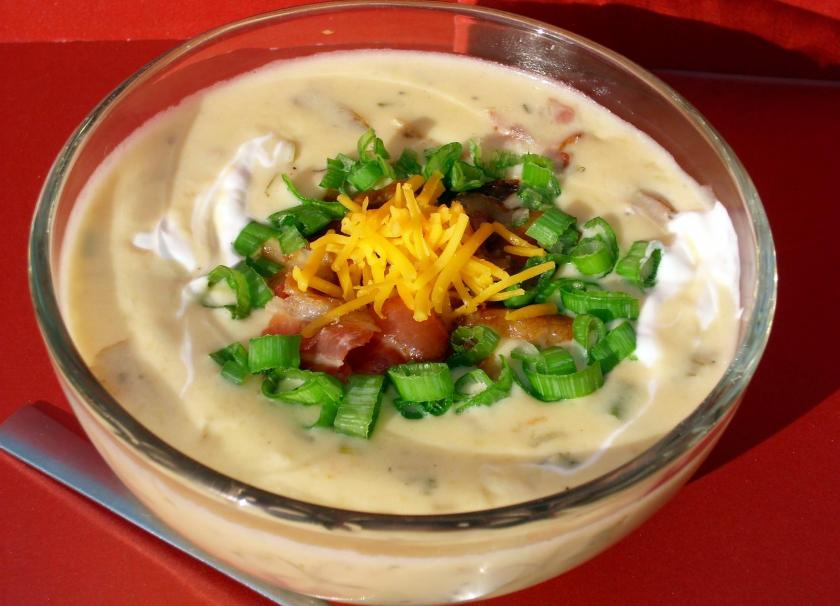 January 20th, 2014
Creamy Potato Soup
In keeping with our soup theme for the month, I present Creamy Potato Soup.  I usually avoid heavy and creamy soups simply for the caloric intake that they bring along with their delicious taste, but I did a remodel on this soup recently to make it more waist band friendly and came up with what I would call a winner!
As you may know from reading these little posts, I LOVE celery root, and I always add it to mashed potatoes so I thought, why not potato soup too?  It added the perfect texture and some nice flavor to a soup that traditionally relies on a lot of cream and sour cream and cheese to deliver the goods.  Below is my recipe, feel free to tweak it to suit your taste and enjoy!
Creamy Potato Soup
2 large russets, peeled and cubed
½ large celery root (celeriac) peeled and cubed
4 cups chicken stock or more for consistency
½ cup lite sour cream
Salt and pepper
½ cup green onions or chives, chopped
2/3 cup cabot fat free cheddar cheese, grated
2 pieces turkey bacon, cooked and crumbled
2 cups lightly steamed broccoli florets
Salt and pepper
In a large soup pot boil the potatoes and celery root in salted water until you can pierce easily with a fork.  Drain the cooking water and add the chicken stock to the potatoes and celery root.
Using an immersion blender, blend potatoes, celeriac and chicken stock until smooth, you may have to add more chicken stock or water until you have a soup like consistency.
Stir in sour cream, half the green onions/chives, and half the cheese.
Season with salt and pepper to taste.
Spoon into bowls and garnish with remaining cheese, crumbled turkey bacon and broccoli florets.  Enjoy!
Serves 4
More Co-op News