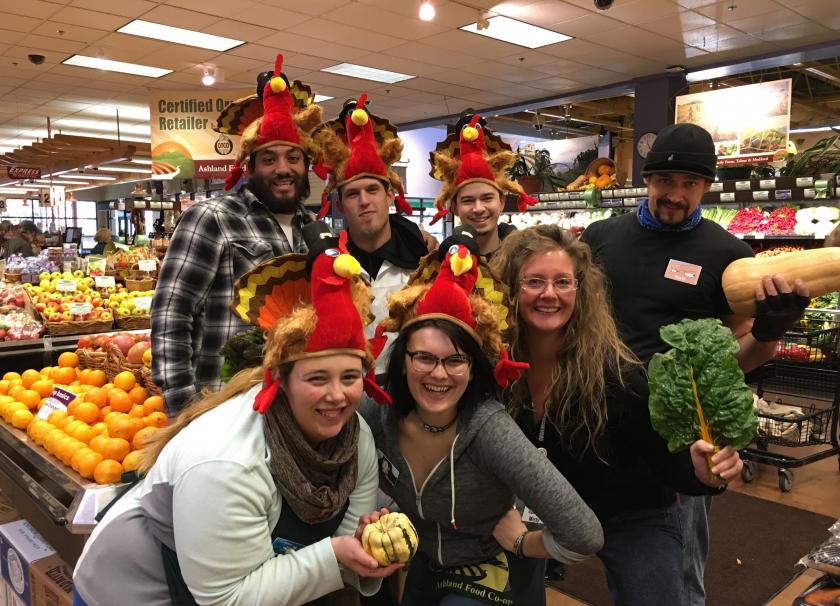 November 16th, 2015
Countdown to Thanksgiving
Are you feeling the stress of Thanksgiving planning? The Co-op can help you with all of your food needs. One of the tips that we've learned over the years is that if you start your planning about ten days out, you'll be more resilient as Thanksgiving Day approaches. Here's a suggested plan that you can follow as is, or revise for your individual needs.
November 16 Make your list of who will attend your celebration. Make sure you check for allergies. It's no fun when a guest cannot eat what you've prepared.
November 17 Will you need a vegetarian entree? We'll have recipe cards of some of our favorites at the Tasting Kiosk. If you don't find one you like, just go to our website for more.
November 18 Start planning your menu. Write down your ideas as you think of them. Watch our ads to see what's on sale.
November 19 The turkeys are arriving in the Meat Department! Remember, even these fresh turkeys will need a couple of days in the fridge to reach the perfect temperature for brining and/or roasting. Take this into account when you time your purchase
November 20 Make your shopping list. Don't forget to plan what you'll eat the day before and the day after Thanksgiving. Stock up on non-perishables now while the selection is best.
November 21 This is the last Saturday before the big day. Time to clean out the fridge and the freezer. Trust us. You'll be glad you did this. While you're at it, scrub out the ice chest too. You can brine your turkey in it or use it for extra drinks that don't fit in the fridge.
November 22 Do a test run on any new recipes you've picked out and eat it for Sunday Dinner. Take this opportunity to also clean the oven and then test the temperature. You can eat any mistakes and correct the temperature at the same time!
November 23 Shop for perishables last or on the day you pick up your turkey. Monday will be less busy, especially early. Shop today and you'll have time to visit and reconnect in the aisles.
November 24 Make and freeze your pie crusts. You'll be so happy you got this out of the way. Then you can just fill and bake on the morning of Thanksgiving. Or buy our pre-made crusts from the Deli if you're not a confident crust-maker.
November 25 Make your beer and wine selections based on your menu. Try a new seasonal beer or a local wine. Our super-friendly and knowledgeable Specialties staff can assist with your decision-making.
THANKSGIVING DAY Stuffing and turkey in the oven. Relax and enjoy your friends and family! 
More Co-op News