November 18th, 2012
The Comfort of Food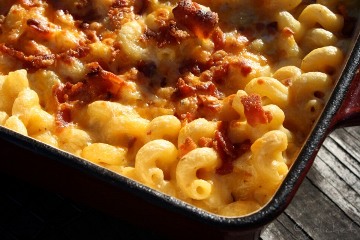 Comfort food is a commonly used term to describe an entire genre of cooking that is so individually inspired that to try to categorize the food that makes a person feel comforted when the weather is cold and snowy, and sunlight is nowhere in sight is rather daunting.  I tend to think that comfort foods are foods that remind us of childhood or young adult hood when we first started making our own foods to enjoy without mom and dad's oversight.  I think family recipes fall into the comfort food category yet, when asked what is your favorite comfort food, most people seem to answer the same:  macaroni and cheese, lasagna, chicken pot pie, meatloaf,  beef stew…you get the picture.  Interestingly enough when one performs an internet search on the same question the answers come up the same.  With so many cultural and regional influences that we all grew up with how could we all possibly be comforted by the same foods?  I think that the rise of cooking shows and internet access has done more than allowed us access to a wealth of information; it has also influenced what we deem comforting whether we really find macaroni and cheese comforting or not, there it is at the top of everyone's list.  And what macaroni and cheese are we really talking about?  My mom was an excellent cook and baker and I grew up with some pretty amazing food on the table, but if I were to find comfort in macaroni and cheese from my youth, it most certainly would have come in a blue box and not be made with 4 different cheeses and an herbed bread crumb topping.  Did anyone really grow up with bacon and roasted pumpkin 3 cheese macaroni and cheese? 
I find that when I ask myself the same question, the answers are much different. I am extremely comforted by coffee, the smell of it brewing and the hot scalding liquid running down my throat.  My parents always have a pot of coffee on and everything about it reminds me of being warm and safe in my childhood home. 
I also find pesto quite comforting.  I remember a dinner when I was about 12 where my dad had heard of this new fangled stuff called pesto.  He had never had it before, heck nobody had, I really don't think it was wildly popular until not that long ago.  He made it with dried basil and put it over pasta with ground beef added at the end.  It was an oily consistency and although you will probably think I am crazy, it was DELICIOUS!  It kind of started a pesto revolution in my family; my parents went on a SEARCH that lasted most of the rest of my childhood for the perfect pesto.  They mastered it somewhere around my 16thbirthday and to this day my mom and I put up as many jars of pesto that we can squeeze into the freezer during basil season.  We use fresh basil these days.  So for me, more than eating pesto which I find very comforting, the act of putting it up in the freezer for the winter is even more so.
Last but not least on my comfort food list are my mom's orange danishes.  When I was a little girl my mom baked for a local shop and every weekend I woke up to the yeasty smell of these beautiful spirals of orange deliciousness baking in the oven.  I make them once a year during the holidays and find that they instantly transport me back.
No matter what you personally find comforting, you probably have been hoping since you saw the wordsbacon and roasted pumpkin 3 cheese macaroni and cheesethat I would give you the recipe, so here it is.  Enjoy!
Bacon and Roasted Pumpkin 3 Cheese Macaroni and Cheese
½ lb diced bacon
1 T garlic granules
4 T butter
½ cup flour
½ T dry mustard powder
½ T salt
1 t paprika
2 cup milk
1 ½ cup heavy cream
1/3 cup shredded cheddar
1/3 cup shredded parmesan
¼ cup crumbled gorgonzola
4 cup diced pumpkin
1 lb macaroni
Toss the diced  pumpkin in a little olive oil and salt and roast off at 450 degrees until done, set aside
Cook off the macaroni, set aside
In a sauce pan cook the bacon until crisp, remove the bacon and set aside, discard the bacon fat
Lower the heat to low, melt the butter in the sauce pan and whisk in the dry mustard, salt, garlic granules, and paprika
Whisk in the flour until smooth and continue to cook for a couple of minutes until the mixture smells toasty
Add the milk and cream, whisking until smooth.  Simmer until the liquid has the consistency of a very loose gravy, stir constantly to avoid burning on the bottom (If the sauce seems too thick, add more milk, a little at a time, stirring after each addition until the consistency makes you happy)
Whisk in the cheeses thoroughly
Add in the reserved bacon
Taste! Adjust seasonings as needed
Mix the sauce into the cooked macaroni, add the roasted pumpkin and enjoy!
More Co-op News