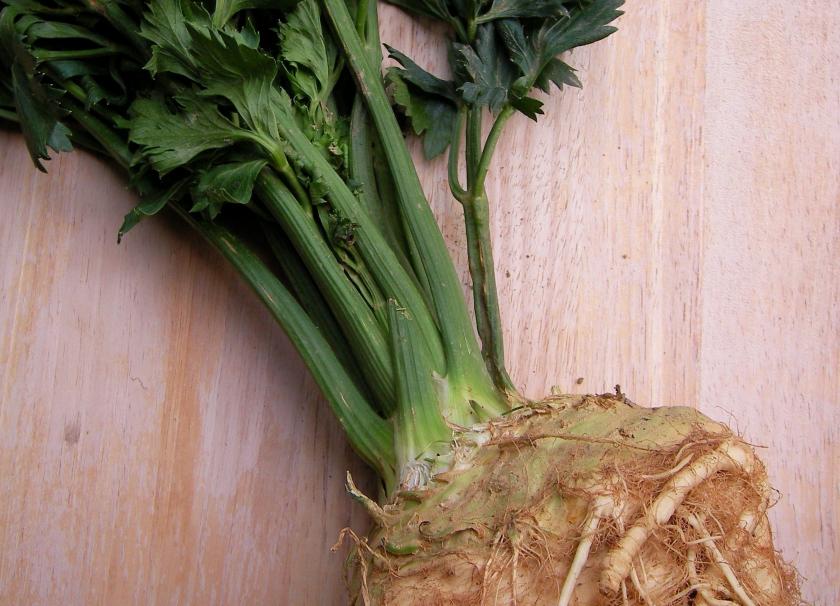 November 10th, 2013
Celeriac Really Shines at Thanksgiving
If you have been reading my blogs or articles in the sales flyer for awhile, then you know that I am an absolute celery root fanatic!  My love for this ugly, knobby, large and unwieldy root dates back to my childhood, where interestingly enough, I didn't like it at all, but having it on our table so frequently throughout my formative years, brought it into my focus where as I grew older and learned about food, my love for celeriac bloomed. My heart literally skips a tiny beat when I see the first celery root show up in the produce department.  It is a root capable of helping me to endure the cold weather to come for which my love is not as strong.  I love celery root roasted simply like fries, with a little olive oil and salt or with a medley of other root veggies.  I often throw it into any soup I am making, cubed, or pureed.  My dad use to slice it about ½" thick and toss it with olive oil and tamari and then bake it until soft, when done he would stick it between 2 slices of bread with some red onion and arugula and there you have a unique and delicious sandwich!  Since we are nearing Thanksgiving though, I will share my simple and delicious recipe for Mashed potatoes with celery root.  Adding celery root to your mashed potatoes not only enhances the flavor and the texture, but it makes the dish a little easier on the waistline.  There are no precise measurements for this recipe, so if that drives you crazy, this might not be for you, but if you give it a try, I think you will find that whatever you do it will turn out delicious and maybe even make an appearance on your table again next year.  Happy Thanksgiving!
Michelle's mashed taters with celery root
I like to use equal parts potatoes and equal parts celery root
Wash and peel both the potatoes and celery root and either cube the potatoes much larger than the celery root and throw them all into a pot of salted water to boil
Or
Start cooking the celery root and when its about halfway done, throw in the potatoes (they cook at different rates)
When everything is soft but not falling apart, push them through a potato ricer.  This will give you the most perfect consistency without any gumminess, and is definitely worth the purchase of this nifty gadget.
If you don't have a ricer, just squash them with a masher
Slowly add hot chicken or veggie stock and gently stir until you get the consistency you are looking for.  If you want to add a little milk, cream, parmesan, or butter, now is the time to do it, although I personally do not, because I like the flavor as is.   Finish with salt, pepper, dried thyme and minced parsley and enjoy!
Written By: Michelle, Deli Manager
More Co-op News